WATCH THE VIDEO ON PARAGLIDING.TV:
Eden 7 – Ein Traditionsname. Die Zahl 7 bringt eine wesentliche Änderung mit sich.
Der Mac Para Eden 7 ist ein Sportklassegleitschirm mit außergewöhnlichem XC-Potenzial. Er vereint unser langjähriges Know-How und die neuesten Erfahrungen aus der Entwicklung unserer Hochleister. Umfangreiche Tests und Vergleiche mit den Besten Gleitschirmen, auch denen von höheren Kategorien, haben gezeigt, mit seinem Leistungspotential steht der Mac Para Eden 7 an der Spitze seiner Klasse. Ganz in der Tradition der Eden Reihe ist das aber auch mit einem hohen Maß an Stabilität und passiver Sicherheit verbunden.

Powerful und Cool
Der Eden 7 zeichnet sich durch ein ausgeglichenes Flugverhalten über den gesamten Geschwindigkeitsbereich und in turbulenten Bedingungen aus. Sein neutrales Verhalten, sein sportliches Handling sorgt für Spaß bei kurbeln in der Thermik. Ein effizientes Steigen in schwachen Bedingungen kann mit nur geringem Bremsimpuls erreicht werden. Der erforderlicher Bremsdruck ist leicht bis mittel. Ein stärkerer Bremsimpuls ermöglicht eine einfache Steuerung auch in engen und starken Thermiken. Ein einfaches Starten und Landen ist seit Jahren bei MAC PARA ein Muss. Der EDEN 7 folgt dieser Tradition.
Leichtere Konstruktion
Das Gleitschirmkonstruktion wurde in allen Aspekten optimiert. Der Eden 7 ist als Semi-leicht Schirm konzipiert. Die kleinste Größe wiegt nur 4,25 kg. Die Kappe steht dank dem neuem 3D-Shaping aerodynamisch sehr sauber. Der moderne RFE –Versteifungssystem der Nase, sowie die Miniribs an der Hinterkante und eine neue Stabiloform reduzieren den Luftwiderstand und erhöhen die Leistung. Die Form der Bahnen, Diagonalsystem und Leinengeometrie – alles wurde so optimiert, dass die Kappe eine optimale Spannung aufweist, Stabilität bietet und damit gerade in aktiver Luft angenehm und komfortabel zu fliegen ist.
Materialien
Der Mac Para Eden 7 ist aus bewährten Skytex-Materialien gefertigt und bietet damit eine lange Lebensdauer. Skytex 32 Hartes Finish für alle Profile und Diagonalrippen. Skytex 38 Universal wird an der Vorderkante der Ober- und Unterseite eingesetzt. Skytex 32 Universal wird sowohl für die obere als auch für die untere Hauptfläche verwendet.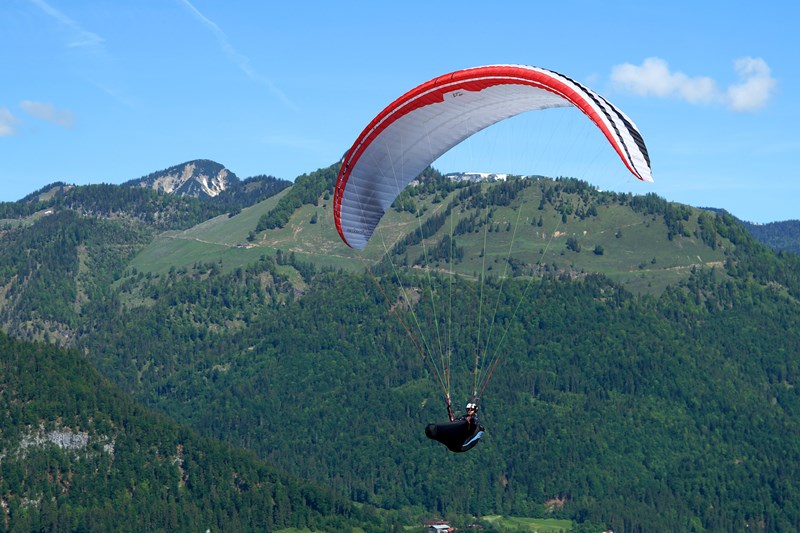 Die oberen Leinen bestehen aus Aramid / Kevlar-Material von Edelrid, die unteren Lines aus der PPSL-Serie von Liros. Die Tragegurte bestehen aus schmalem Kevlar / Polyester-Gurtband und sind mit hochwertigen Kugellagerrollen ausgestattet. Leistungspiloten werden sich über neue C/B -Anstellwinkel-Stabilisierung bei hohen Geschwindigkeiten freuen.
Bin ich ein Eden 7 Pilot? Top-Gleitschirm für ambitionierte XC-Piloten
Obwohl er in der Kategorie EN-B zertifiziert ist und eine hohe Stabilität aufweist, ist der Eden 7 nicht für Anfänger und gelegentlich fliegende Piloten geeignet. Es richtet sich an fortgeschrittene oder erfahrene Piloten, die bereits über Flugerfahrung mit Schirmen der EN-B Klasse verfügen. Für ambitionierte XC-Piloten, die ein entspanntes Fliegen schätzen.
Mein Eden 7…
Probefliegen, Farbe auswählen und die Größe bestimmen. Bei der Auswahl hilft Ihnen Ihr lokaler Händler vor Ort.
Größen: Der Eden 7 ist in den Größen 22, 24, 26, 28, 30 und 33 qm erhältlich.
Seriendesigns: Die Hauptfarben sind Blau, Weiss und Lime.
Spezialdesign: Gegen einen Aufpreis können wir fast alle Wunschfarben verarbeiten.
EDEN 7
22 (XS)
24 (S)
26 (M)
28 (L)
30 (XL)
33 (XXL)
Zoom[%]
88
92
96
100
104
109.5
Fläche ausgelegt[m2]
21.92
23.95
26.08
28.3
30.61
33.93
Fläche projiziert[m2]
19.26
21.05
22.92
24.87
26.9
29.82
Spannweite ausgelegt[m]
11.53
12.05
12.58
13.1
13.62
14.34
Streckung ausgelegt
6.06
6.06
6.06
6.06
6.06
6.06
Flügeltiefe[m]
2.4
2.51
2.62
2.73
2.84
2.99
Anzahl Zellen
59
59
59
59
59
59
Schirmgewicht[kg]
4.20
4.45
4.75
5.00
5.30
5.60
Startgewicht *[kg]
55 – 80
70 – 90
82 – 103
93 – 115
105 – 130
115 – 145
Min. Geschwindigkeit[km/h]
23 – 25
23 – 25
23 – 25
23 – 25
23 – 25
23 – 25
Trimmgeschwindigkeit[km/h]
37 – 39
37 – 39
37 – 39
37 – 39
37 – 39
37 – 39
Max. Geschwindigkeit[km/h]
50 – 52
50 – 52
50 – 52
50 – 52
50 – 52
50 – 52
Gleitzahl max.
+10
+10
+10
+10
+10
+10
Min. Sinken[m/s]
1.05
1.05
1.05
1.05
1.05
1.05
Zertifizierung
LTF/EN-B
LTF/EN-B
LTF/EN-B
LTF/EN-B
LTF/EN-B
LTF/EN-B

* Startgewicht = Nacktgewicht + ca. 20 kg
ITEM
MATERIAL
Obersegel / Untersegel Eintrittskante
Skytex 38 Universal- 38 g/m2
Obersegel Hinterkante
Skytex 32 Universal- 32 g/m2
Untersegel
Skytex 32 Universal – 32 g/m2
Hauptrippen
Skytex 32 Hard – 32 g/m2
Querverstrebungen
Skytex 32 Hard – 32 g/m2
Zwischenrippen
Skytex 32 Hard – 32 g/m2
Gallerieleinen
Edelrid Aramid/Kevlar 8000U
-50 kg; -70 kg; -90 kg; -130 kg
Stammleinen
PPSL 191 (Eden7 30-33 PPSL 260)
Der Eden 7 wird aus bewährten Materialien mit bekannter Qualität und Haltbarkeit hergestellt: Skytex 32 Universal von Porcher Sport. Für alle Rippen und Diagonalrippen verwenden wir Skytex 32 Hard mit E29 "hard finish" Beschichtung. Dieser Mix gibt dem Schirm den Vorteil sowohl leicht als auch langlebig zu sein. Die verschiedenen Teile werden so verarbeitet um ein möglichst sauberes Segel zu erhalten.











Dies ist der High B Level Flügel von Mac Para. Seine Leistungen stellen ihn eindeutig an die Spitze seiner Klasse, aber seine Zugänglichkeit ist einer mittleren Kategorie würdig.Mac Para – die große Erfolge im Wettbewerb hatte (mit den Brüdern Valic, Petra Slivova mehrfache Weltmeisterin und Greg Blondeau Europameister) werden kurz in Erinnerung gerufen und mit dem neuen Magus kommt sie wieder.Der Eden 7 ist ein perfektes Beispiel dafür, hervorragend gebaut mit zuverlässigen Materialien, bietet er beispielhaften Fluggenuss und Komfort.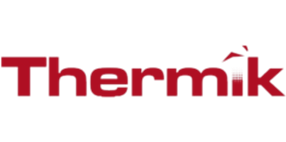 Seit zwei Jahrzehnten steht die Eden-Baureihe für hohe Stabilität sowie attraktives XC-Potenzial in der B-Klasse. Mit der 7. Auflage will sich Mac Para nach dem Erfolg des Vorgängers keine Blöße geben und erneut in der Intermediate-Klasse ganz vorne mitmischen…

Das Gleiten im beschleunigten Flug wurde (merklich) nochmals deutlich optimiert. Hierbei fällt der Eden 7 gefühlt resistenter und stabiler gegen Kappenstörungen aus, als der Eden 6. Das Gleiten bewegt sich im Spitzenfeld der High-Level EN-B Schirme, ohne einen wesentlich erhöhten Anspruch an den Piloten zu stellen.
Fotos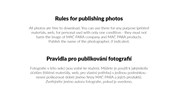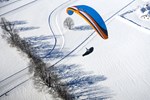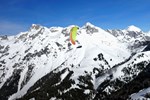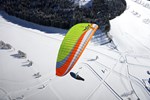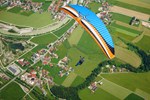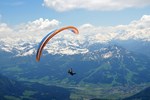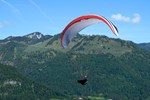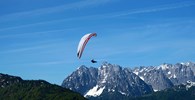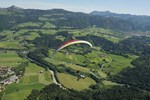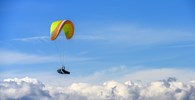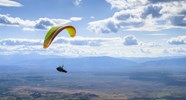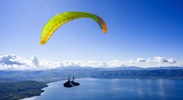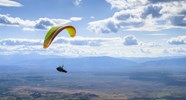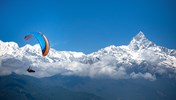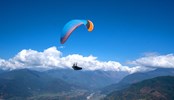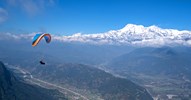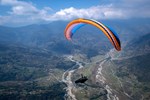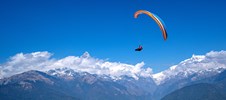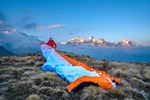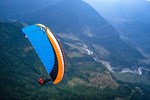 Testreport Bassil Ziad, Friday, June 14, 2019
Thanks to:
http://ziadbassil.blogspot.com/2019/06/mac-para-eden-7-24-70-90.html 
Test Mac Para Eden 7 24 (70-90)
Mac Para Eden 7
24
(70-90)
I asked MacPara to purchase that glider like usual. Then I got an email that a demo glider was already sent, and I have to return it afterward!
After lots of delays at our customs office…like usual, the Eden 7 was released. Mac Para wanted the glider back for the Kossen exhibition, but I only flew it once and felt something different and I emailed Macpara that I must purchase that glider as I need more time on it, there was something very interesting! but they replied that they are sorry… and they prefer to get the glider back!
I kept the glider for another 3 flying days and…(to be continued…**)
The test:
The Eden 7 is MacPara 2019 high B glider. With an aspect ratio of 6, good mix of thin sheathed unsheathed lines, nice risers with C steering ability, the Eden 7 is a beautiful looking glider with a racy look.
Launching the Eden 7 is super easy for a high B glider. The take off is immediate.
I flew the Eden 7 24 from 85 to 91 all up to discover the best spot at 87 all up.
The Eden 7 was flown with a Delight 3 harness and compared with other B or C gliders flying the same harness.
I flew that glider in mixed conditions from weak to turbulent. Despite the aspect ratio of 6, I never felt it was more demanding to fly than any 5.4 aspect ratio B gliders. In fact, I can say that it seems quite easier to fly than most High B gliders with a lower aspect ratio. The movements of the Eden 7 in turbulent air are not really dynamic for the 6 aspect ratio glider.
I'm not saying that it resembles the low B category. It needs a high B pilot, but the Eden 7 felt like a very well balanced high B glider that works well in itself.
There weren't any unnecessary movements coming from the glider. Just good, well-balanced feedback, that was exactly needed for the high B category. The Eden 7 feels like an educational high B with the exact amount of "relaxed" feedback for the XC pilot.
The authority on the brakes at 87 all up is simply "amazing". It is not the most agile high B glider but still very satisfying agility with a short brake travel, precise to place it inside any core, direct to swiftly engage a turn without delay, moderate pressure that kept my hands quite comfortable all the flight.
Those characteristics of handling and brake authority on the Eden 7 quickly won my heart!
I never regretted test flying that EN-B in those good and rare flyable days this year. 
I would describe the overall feedback as "polite". Exactly what should be felt under an XC machine for long flights.
Loading the Eden 7 at 87 all up is very efficient even in weak thermals.
This high B is definitely a floater within its category.
In strong cores it also climbs 'super' well as the Eden 7 surfs the air forward like a very good high B, and it's even very competitive with the class above in climb and glide.
Surfing a difficult airmass for a high B is a blessing, as some will bump and pitch back. Not on the Eden 7, as it never kept from surprising me in that matter. It does surf forward and climb like "higher rated gliders".
The Eden 7 glide at bar similar to the best B's in that big category with an edge!
The edge was found on top speed!
It is quite fast for the category, and very usable.
On my Eden 7 size 24 similarly loaded as a Mentor 6 same size (70-90), I was around +1 km/h faster at top speed!
Its also faster than an Alpina 3 S and the glide at trim and at bar was over my expectations, to say the least!
While pushing the bar, the C steering is hard to pull, with a fair efficiency in turbulence. 
The trim speed is similar to the Mentor 6, and the Eden 7 has around 15..16 km/h over trim taken at 1000 ASL.
I also flew next to higher rated gliders, just to see the potential of the Eden 7, and I can totally confirm my earlier comments that put the Eden 7 on the highest level!
The ears are stable to a certain pull and reopen fast. Induced asymmetries and holding the A risers down are easy to counter steer with no big loss of altitude.
Frontals make a slight horseshoe but reopen quickly.
Wing overs are nice, without any excess of dynamic and energy!
I already updated my B category.
Conclusion:
In this large EN-B category, many manufacturers are really making huge progress to deliver us quite interesting gliders, and it's becoming silly to always write positive reviews, but i surely recommend test flying that one! No dull feel under it, rather than an educational one.
It's like flying a calm higher rated glider with an impressive performance package. 
The Eden 7 in size 24 is a high B glider but an easy one to fly for the experienced B pilots, with superb handling and brake authority.
It has a relatively calm and balanced behavior. The overall package of performance is efficient and very usable!
For a high B pilot looking for an excellent creation, the Eden 7 fulfills every need and check every box. It would be very interesting to test flying one at its optimum load. 
**- Now to continue my story with Mac Para…I insisted to keep that glider. And I paid for it just because I couldn't return back such a beautiful piece of a flying machine! and I also needed to keep it as a testing reference for this summer!