HIER DAS AKTUELE VIDEO AUF: www.PARAGLIDING.TV :
---
High Performance Powered Racing
Der Paradox ist eine komplette Neuentwicklung, die für sehr erfahrene Motorschirmpiloten konzipiert wurde. Seine außergewöhnliche hohe Wendigkeit und der große Geschwindigkeitsbereich, gepaart einer exzellenten Stabilität machen den Paradox zum idealen Schirm, um auch bei Wettbewerben ganz vorne mit dabei zu sein.
High Performance Powered Racing
Der Paradox ist mit einem speziellen 5-Punkt-Tragegurte-System und Trimmern ausgestattet. Er bietet in allen Positionen des Trimmers eine außergewöhnlich hohe Wendigkeit und Gleitleistung. Der Paradox ist wie gemacht, um einen Slalomkurs in Höchstgeschwindigkeit zu umrunden oder dynamische Figuren zu fliegen.
Und wer glaubt, ein so dynamischer Schirm sei schwer zu starten, wird vom Paradox mehr als überrascht sein. Auch Starts bei Null-Wind sind dank der langjährigen Motor Expertise von Mac Para ein Kinderspiel.
---
Powered Racing in New Style
The Paradox is an all-time favorite among advanced ppg pilots. It is a classic powered competition wing with newly designed reflex-airfoils. C rod technology on leading edge combined with RFE – panel reinforcement technology provide extra speed, performance and stability. The Paradox is a specific reflex glider with extraordinary maneuverability, speed, fun potential and easy launching and landing characteristics.
High Performance Design
The canopy has 63 cells and has an elliptical form with an aspect ratio of 6.0. The canopy has perfect internal pressure distribution and is very resistant to collapse. The construction using diagonal ribs and a system of load-bearing tapes keep the canopy stable and clean for maximum efficiency through the air. Specially designed airfoils provide extraordinary glide ratio and stability. The smooth shape of the airfoil nose is maintained using Mylar reinforcement combined with plastic rods. Additionally the RFE system – C rods between the main ribs, and the matching mini-ribs along the trailing edge. The upper cascade is made from unsheathed lines. Thin main lines and newly designed thin risers with ball bearing Harken pulleys help to achieve high speed. The benefit of this new technology is increased glide and lower fuel consumption.
Exceptional Handling
The Paradox inflates very easily in all conditions even in a light, nil or cross wind. The wing offers sporty handling in all trim settings. It features wing tip steering toggles for accelerated flying.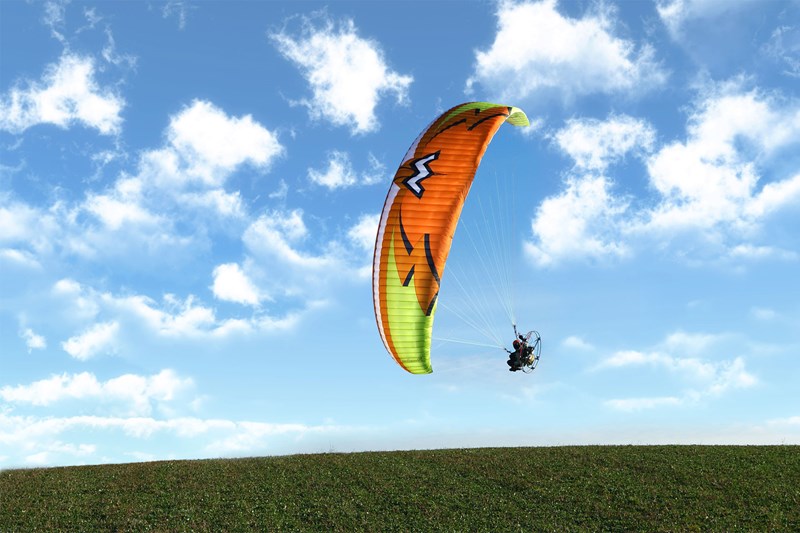 Combination with serial brakes in according to pilot's preferences can make bank angle of turn even tighter. The forces on main controls are light at the beginning and provide extraordinary maneuverability.
Dynamic maneuvers are easily possible. In the next phase of braking, the pressure increases progressively providing you with good sufficient feedback. The Paradox is equipped with special 5 point comp risers system with trimmers. When operating the speed bar the speed increase is extremely progressive. It is really fast! The Paradox is not suitable for beginners and intermediate pilots.
Standard Equipment
Auto cleaning slots on wing tips help to keep the canopy clean. Modified semi-stiff brakes toggles are equipped with swivels and additional thin loops to make control of the glider easier and less tiring during long flights. The glider is delivered with quick bag MacPack (optionally with backpack Bronco), inner sack, compression belt, T-shirt and set for repairs.
The Paradox is an outstanding paramotoring glider which is loaded with highest performance and maneuverability. It is fun to fly it.
Make it Yours…
The hardest part is picking your favorite Colour and Size. If you need help your local Mac Para dealer will help you choosing the right size to maximize the performance of your new Paradox.
Sizes: The Paradox is available in sizes 18, 20, 22, 24, 27.
Colors: The main base colors on 3 designs Lime, Red, and Orange.
PARADOX
16
18
20
22
24
27
Zoom[%]
87
92
96
100
106.5
112
Fläche ausgelegt[m2]
16.35
18.28
19.91
21.6
24.5
27.1
Fläche projiziert[m2]
14.39
16.09
17.52
19.01
21.56
23.85
Spannweite ausgelegt[m]
9.9
10.47
10.92
11.38
12.12
12.75
Streckung ausgelegt
6
6
6
6
6
6
Flügeltiefe[m]
2.06
2.18
2.28
2.37
2.52
2.65
Anzahl Zellen
63
63
63
63
63
63
Schirmgewicht[kg]
4.9
5.15
5.3
5.65
6.1
6.2
Gewichtsbereich Motorflug *[kg]
85 – 120
90 – 130
95 – 137
105 – 145
115 – 160
130 – 180
Min. Geschwindigkeit[km/h]
25 – 27
25 – 27
25 – 27
25 – 27
25 – 27
25 – 27
Trimmgeschwindigkeit – zu[km/h]
39-41
39-41
39-41
39-41
39-41
39-41
Trimmgeschwindigkeit – offen[km/h]
49-52
49-52
49-52
49-52
49-52
49-52
Max. Geschwindigkeit
(Beschleuniger + Trimm-offen)[km/h]
64-67
64-67
64-67
64-67
64-67
64-67
Gleitzahl max.
9.5
9.5
9.5
9.5
9.5
9.5
Min. Sinken[m/s]
1.1
1.1
1.1
1.1
1.1
1.1
* Motorflug Pilot ausgestattet = Gewicht nackt + cca. 35 – 40 kg (-55kg by trikes)
| ITEM | MATERIAL |
| --- | --- |
| Obersegel Eintrittskante: | Skytex 38 Classic, 38 g/m2 |
| Obersegel Hinterkante: | Skytex 38 Classic, 38 g/m2 |
| Untersegel: | Skytex 38 Classic, 38 g/m2 |
| Hauptrippen: | Skytex 40 Hard, 40 g/m2 |
| Querverstrebungen: | Skytex 40 Hard, 40 g/m2 |
| Zwischenrippen: | Skytex 38 Classic, 38 g/m2 |
| Gallerieleinen: | Edelrid Aramid/Kevlar 8000-45kg,-65 kg, -80 kg, -130 kg |
| Stammleinen: | PPSL -160 kg, -191 kg, -200 kg, -275 kg |










Fotos