Ozone LM 7 Lightweight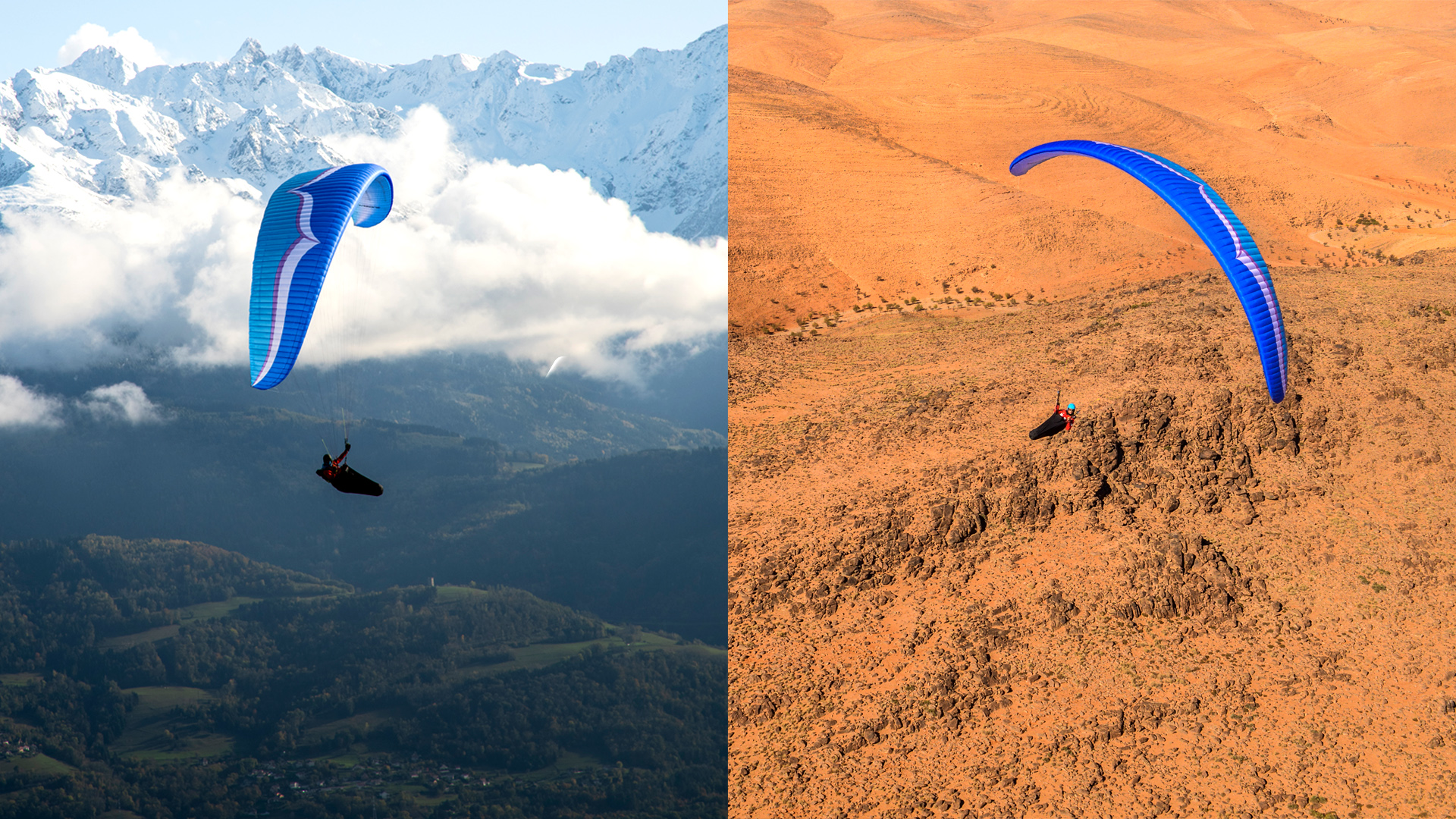 Ozone LM 7 Produktinfo
Der leichtgewichtige Hochleistungs-3-Leiner
Mit der ZENO & ENZO 3 Technologie
Der LM7 ist eine leichtgewichtige XC Maschine, ausgestattet mit den aktuellsten Hochleistungs-Features unserer Wettkampfflügel. Ein leichtgewichtiger und kompakter 3-Leiner. Profil, Form und Krümmung haben sich alle aus dem Zeno entwickelt, und die Streckung ist mit 6,5 moderater. Der LM7 bietet ein Maß an Agilität, Komfort und Sicherheit, das sich näher an der Delta Serie einordnen lässt. Seine Gleitleistung ist hingegen der des Zenos ähnlich. Allem voran ist der LM7 ein Flügel, mit dem das Fliegen unglaublich viel Spaß macht!
Mit 650 Gramm weniger als der M7 ist er angenehmer zu transportieren, hat ein kleineres Packmaß, und profitiert von einem leichteren Segel. Die beachtliche Gewichtsreduktion verbessert nicht nur das Füllverhalten, sondern macht auch das Feedback lebendiger, und verbessert die Agilität und das Verhalten des Flügels in aktiver Luft.
Vom LM6 ausgehend ist hier ein bedeutender Schritt nach vorne gelungen, wenn es um Leistung, besonders im beschleunigten Flug, geht. Zudem erholt sich der LM7 schneller von Klappern, der Pilot muss weniger Arbeitseinsatz leisten, und der Schirm ist in turbulenter Luft kohäsiver. Der LM7 ist der ideale Flügel für Piloten, die sich mit der D Klasse vertraut machen wollen, und dabei Leistung und Vergnügen eines modernen 2-Leiners erwarten. Das finden sie im LM7, aber mit mehr Komfort und Sicherheit
Ozone LM 7
Technologie
Das Profil ist inspiriert vom Zeno, und verfügt über Befestigungen für die A-Leinen, die sich relativ weit weg bzw. hinter der Anströmkante befinden. Das erzeugt eine stabile und klappresistente Nase. So kommst du schnell durch Turbulenzen, und kannst den Aufwind in jeder Windböe nutzen.
Die Innenstruktur ist für Gewicht und Kohäsion optimiert. Der Flügel absorbiert Turbulenzen ohne sich dabei flügel- oder spannweitig zu deformieren, was bedeutet, dass der Handlingspielraum zu jeder Zeit ausgenutzt werden kann, auch in härtester Thermik. Die Kohäsion des Segels vermittelt im Zusammenspiel mit der Solidität Vertrauen. Das reduziert die Anforderungen an den Piloten, und ermöglicht dir, das volle XC Potenzial auszuschöpfen, das der Flugtag zu bieten hat.
Ein neues Tragegurt Kontroll-System ermöglicht im beschleunigten Flug  volle Kontrolle. Dieses innovative System wirkt auf B- und C-Tragegurte, und ermöglicht eine direkte, effiziente Kontrolle des Anstellwinkels ohne dabei das Profil zu deformieren. Das intuitive Gefühl und Feedback über die Tragegurte gibt dem Piloten die Möglichkeit, die Solidität des Schirms mit Beschleunigung in turbulenter Luft aufrecht zu halten.
Die Klasse
Der LM7 hat eine EN D Zulassung und ist für EN D Piloten ausgelegt, auch wenn der Zulassungslevel hauptsächlich auf den Gebrauch von Faltleinen zurückzuführen ist. Das Maß an Komfort und Sicherheit ist der niedrigeren Klasse näher! Faltleinen wurden eingesetzt, weil wir die Struktur des Schirmes absolut nicht schwächen wollten, nur um eine niedrigere EN Einstufung zu erhalten. Wahre Leistung in reellen Bedingungen – das ist und bleibt unsere Priorität. Langes und vielmaliges Testen mit Faltleinen hat ein ausgezeichnetes Erholungsverhalten gezeigt. Besser als beim LM6, und mit weniger Tendenz zu Verhängern.
Der Pilot des ozone lm7
Der LM7 ist die Leichtversion des M7, und für fortgeschrittene Piloten gedacht, die das höchste Level des XC Fliegens anvisieren und einen Leichtschirm bevorzugen. Er ist ideal für kompetente Piloten, die sich von einem geringer qualifizierten Bereich hinaufarbeiten wollen, oder für diejenigen, die sich ein einfacheres und gutmütigeres Verhalten wünschen als das eines 2-Leiners, ohne dabei Abstriche in Sachen Leistung machen zu wollen. Wir empfehlen den L M7 erfahrenen Piloten, die mindestens 100 Stunden im Jahr fliegen, und deren letztes SIV Training noch frisch ist.
Der LM7 ist (ebenso wie der M7) zweifelsfrei der beste 3-Leiner, den wir bislang kreiert und produziert haben. Nach ausgiebigen Testphasen bei sehr harten Bedingungen sind wir mit dem Endresultat sehr zufrieden. Der LM7 ist ein kraftvoller Schirm mit wahrer Leistung im Herzen; einem zugänglichen Gefühl, agilem Handling und einem hohen Maß an Sicherheit.
Dein OZONE Schirm wird standardmäßig mit dem folgenden Zubehör ausgeliefert::
140L Leichtrucksack, das spezielle "Faltkissen" um die Plastikverstärkungen zu schützen, Innensack, Gleitschirmgurt, OZONE Aufkleber, Reparaturtuch und OZONE Schlüsselanhänger.
You may choose to add something to your order, such as: Saucisse Bag (video) (concertina packing bag), Easy Bag (quick stuff sack), or OZONE Clothing and Accessories.
Spezifikationen
| Größen | xs | S | ms | ml | l |
| --- | --- | --- | --- | --- | --- |
| Anzahl der Zellen | 78 | 78 | 78 | 78 | 78 |
| Projizierte Fläche (m2) | 16.2 | 17.6 | 19 | 20.4 | 21.6 |
| Ausgelegte Fläche (m2) | 19.3 | 20.9 | 22.6 | 24.2 | 25.7 |
| projizierte Spannweite (m) | 8.8 | 9.1 | 9.5 | 9.8 | 10.1 |
| ausgelegte Spannweite (m) | 11.2 | 11.6 | 12.1 | 12.5 | 12.9 |
| projizierte Streckung | 4.7 | 4.7 | 4.7 | 4.7 | 4.7 |
| ausgelegte Streckung | 6.5 | 6.5 | 6.5 | 6.5 | 6.5 |
| Flügeltiefe (m) | 2.17 | 2.27 | 2.35 | 2.44 | 2.51 |
| Gleitschirmgewicht (kg) | 4.00 | 4.26 | 4.50 | 4.73 | 4.96 |
| Gewichtsbereich (kg) | 60-75 | 70-85 | 80-95 | 90-105 | 100-115 |
| EN / LTF | D | D | D | D | D |
Material
Obersegel: Dominico N20D / Porcher 7000 E71
Untersegel: Porcher 7000 E71
Rippen: Porcher 9017E29
Galerieleinen: Edelrid 8000U serie
mittleres Stockwerk: Edelrid 8000U serie
Stammleinen: Edelrid 8000U serie
Der grosse Bruder:
https://www.paragliding.eu/ozone-mantra-m7/
Thanks to
https://www.flyozone.com/paragliders/de/products/gliders/lm7