"Fly In Peace" – Die Philosophie des entspannten Fliegens – Realität oder Marketing?
Der Elan 3 – ist der leistungsstärkste Schirm der gesamten Elan-Serie und bleibt konsequent ein Vertreter eines entspannten Flugstils. Der Elan 3 eignet sich für ambitionierte XC-Piloten, die einen außergewöhnlichen Schirm mit exzellentem Gleiten, bestem Steigen und einfachem Handling suchen.
Durchdachtes und abgestimmtes Konzept
Ausgangspunkt für die Entwicklung mehrerer Prototypen waren die neuen Profile des Magus, die anschließend die "notwendigen" Modifikationen erhielten. Ebenso experimentierten wir mit einem Zweileiner-System im äußersten Bereich der Kappe, kehrten aber schließlich zum dreireihigen Konzept zurück. Das Ergebnis ist ein ausgewogener Schirm mit gutem Feedback und gleichzeitig einem hohen Maß an Stabilität.
Das Pitching ist gut ausbalanciert, im Flug leicht spürbar, ohne dass große Korrekturen nötig sind und ermöglicht so ein sehr gutes Steigen in der Thermik. Der Elan 3 steigt sowohl in schwacher als auch stärkerer und anspruchsvollerer Thermikbedingungen effizient. Sein Handling liegt irgendwo zwischen Elan 1 und Elan 2. Obwohl leicht gedämpft, ist die sportliche Manövrierfähigkeit vorhanden und damit das Kurbeln in der Thermik einfach und leichtgängig und somit die Steigleistung hervorragend. Der Elan 3 vereint Komfort, Leistung, Sicherheit und die pure Freude am Fliegen.
Geringes Gewicht und einfaches Startverhalten
Der Elan 3 ist als "Semi-Light"-Schirm konzipiert, die kleinste Größe wiegt nur 4,20 kg.
Dank der durchdachten Konstruktion der Kappe und der leichten Materialien konnten die Starteigenschaften des Vorgängers beibehalten werden. Das Aufziehen der Kappe, die Art des Aufziehens und die geringe Tendenz zum Überschießen sind für mich als Konstrukteur sehr wichtige Parameter für die Sicherheit eines Schirms. Bei Nullwind ist das Füllen der Kappe über die gesamte Spannweite gleichmäßig und die Kappe steigt leicht über den Kopf. Auch bei stärkerem Wind sind Abheben und das Pitchen gut beherrschbar. Mit seinem einfachen Startverhalten übertrifft der Elan 3 seine Mitbewerber deutlich. Das Ergebnis ist ein ausgewogener Flügel mit eine Streckung von 6,35. Das Verhalten bei extremen Flugmanövern ist präzise und gut vorhersehbar. Der Elan 3 verbindet die Leistung von Schirmen der "High-End"-Kategorie EN C mit Flugkomfort und einem entspannten Gefühl, vergleichbar Schirmen in der der Kategorie EN B. Wer's nicht glaubt, sollte ihn ausprobieren.
Fortschrittliche Technologien
Dank dem einzigartigen Eintrittskanten-Verstärkungssystem (RFE) bietet der Elan 3 außergewöhnliche Leistung über den gesamten Geschwindigkeitsbereich. In Turbulenzen behält der Elan 3 eine überduchschnittliche Stabilität. Die Klappresistenz der Kappe wird durch eine hervorragende Penetration gegen dem Wind erhöht. Der Schirm benötigt im beschleunigten Flug nur minimale Korrekturen über die C-Tragegurte. Der Anstellwinkel im beschleunigten Flug kann, falls erforderlich, durch Korrekturen an den C-Tragegurten korrigiert werden. Das dort eingebaute Übertragungssystem ändert leicht die Profilform und korrigiert gleichzeitig den Anstellwinkel.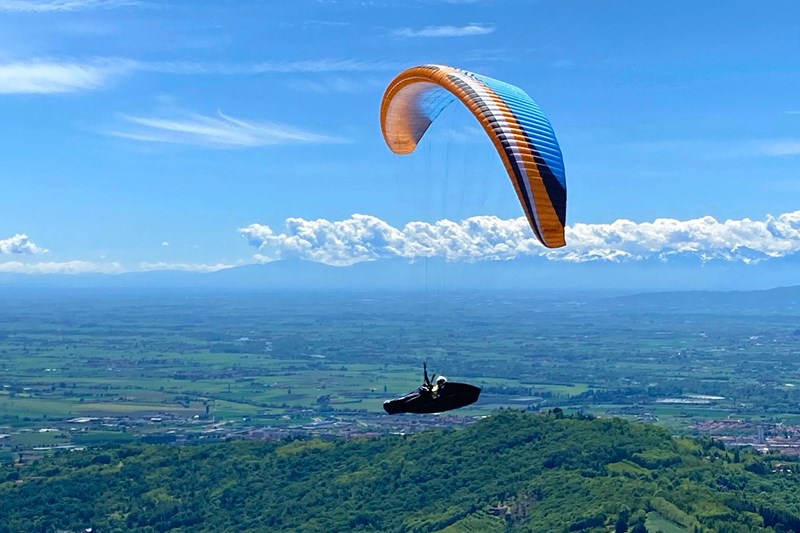 So können zuverlässig die eh nur kaum vorkommenden asymmetrischen Einklapper, frühzeitig erfasst und vermieden werden! Die Auswirkung trotzdem vorkommender Klapper werden dadurch wesentlich milder mit weniger Drehung aus der Flugrichtung. Die C-Tragegurte sind mit gepolsterten Griffen unterhalb der Leinenschlössern ausgestattet, so dass diese Korrekturen leicht möglich sind.
Praktische Schmutzauslassschlitze an den Flügelenden sorgen dafür, dass Sand, Gras oder kleine Steine im Flügel leicht zu entfernen sind.
Auf Perfektion getrimmt
Das "negative 3D-Shaping"der Eintrittskante sorgt für aerodynamische Optimierung und bietet nebenbei auch die Möglichkeit einer neuen Farbgestaltung der Kappe. Das RFE-System in Kombination mit dem "negativen 3D-Shaping" der Eintrittskante, den "Mini-Ripps" an der Austrittskante und der neuen Form der Stabilos, tragen dazu bei, den Luftwiderstand weiter zu reduzieren und die Leistung zu verbessern. Die Anzahl der Zellen und deren Formgebung, das Diagonalsystem, die Geometrie der Leinen – alles wurde für die richtige Steifigkeit der Kappe optimiert und sorgt für Stabilität und maximalen Flugkomfort auch in aktiver Luft.
Effektive Steuerung
Der Steuerweg im normalen Thermikflug ist recht kurz und die erforderlichen Kräfte an den Steuerleinen sind gering bis mittel. Im Zentrum starker Thermik oder in Thermikblasen in der Nähe von Felsen oder Bäumen können die Steuerleinen einseitig verstärkt gezogen werden um den Schirm in noch deutlich kleinerem Radius zu drehen. Durch die Stabilität des Schirms ist es nicht notwendig, die Aussenseite der Kappe beim Thermikfliegen stark anzubremsen. Dies erhöht die Steigleistung zusätzlich. Die Kappe ist mäßig empfindlich gegenüber Gewichtsverlagerungen.
Bei verstärktem Ziehen an den Steuerleinen nehmen die Steuerkräfte progressiv zu und bieten dadurch ein zusätzliche Sicherheit.
Überzeuge dich selbst…
Zögere nicht, einen Testflug zu vereinbaren. Wähle die richtige Schirm-Größe und das Farbdesign mit Hilfe deines Händlers oder MAC PARA.
Der Elan 3 – das ist Komfort, Leistung, Sicherheit und die pure Freude am Fliegen.
Technische Daten
ELAN 3
22 (XS)
24 (S)
26 (M)
28 (L)
30 (XL)
33 (XXL)
Zoom[%]
89
92
96
100
104
109
Fläche ausgelegt[m2]
22,16
23,68
25,79
27,98
30,26
33,24
Fläche projiziert[m2]
19,36
20,69
22,52
24,44
26,43
29,04
Spannweite ausgelegt[m]
11,86
12,26
12,80
13,33
13,86
14,53
Streckung ausgelegt
6,35
6,35
6,35
6,35
6,35
6,35
Flügeltiefe[m]
2,35
2,43
2,53
2,64
2,75
2,88
Anzahl Zellen
67
67
67
67
67
67
Schirmgewicht[kg]
4,20
4,43
4,80
5,20
5,35
5,60
Startgewicht *[kg]
58 – 80
75 – 95
87 – 105
92 – 118
105 – 130
115 – 145
Min. Geschwindigkeit[km/h]
23 – 25
23 – 25
23 – 25
23 – 25
23 – 25
23 – 25
Trimmgeschwindigkeit[km/h]
38 – 40
38 – 40
38 – 40
38 – 40
38 – 40
38 – 40
Max. Geschwindigkeit[km/h]
53 – 55
53 – 55
53 – 55
53 – 55
53 – 55
53 – 55
Gleitzahl max.
10,5
10,5
10,5
10,5
10,5
10,5
Min. Sinken[m/s]
1,05
1,05
1,05
1,05
1,05
1,05
Zertifizierung
LTF/EN-C
LTF/EN-C
LTF/EN-C
LTF/EN-C
LTF/EN-C
LTF/EN-C
* Startgewicht = Nacktgewicht + ca. 20 kg
Verwendete Materialien
ITEM
MATERIAL
Obersegel/Untersegel Eintrittskante:
Skytex 38 Universal – E25A, 38 g/m2
Obersegel Hinterkante
Skytex 32 Universal – E3W, 32 g/m2
Untersegel Hinterkante:
Skytex 27 Classic II – E71A, 27 g/m2
Hauptrippen
Skytex 32 Hard – E29A, 32 g/m2
Querverstrebungen
Skytex 32 Hard – E29A, 32 g/m2
Zwischenrippen
Skytex 32 Hard – E29A, 32 g/m2
Gallerieleinen
Edelrid Aramid/Kevlar
8000U -50 kg; -70 kg; -90 kg; -130 kg
Stammleinen
PPSL – 180 kg; -200 kg
Der Elan 3 wird aus bewährten Materialien mit bekannter Qualität und Haltbarkeit hergestellt: Skytex 38 Universal, 32 Universal and 27 Classic II von Porcher Sport. Für alle Rippen und Diagonalrippen verwenden wir Skytex 32 Hard mit E29 "hard finish" Beschichtung. Dieser Mix gibt dem Schirm den Vorteil sowohl leicht als auch langlebig zu sein. Die verschiedenen Teile werden so verarbeitet um ein möglichst sauberes Segel zu erhalten.










Foto- und Videogalerie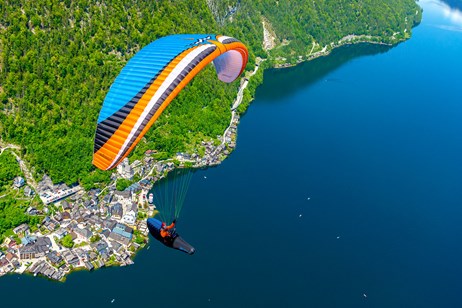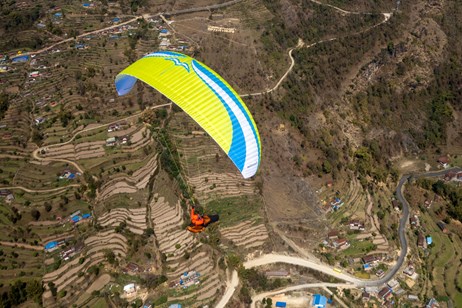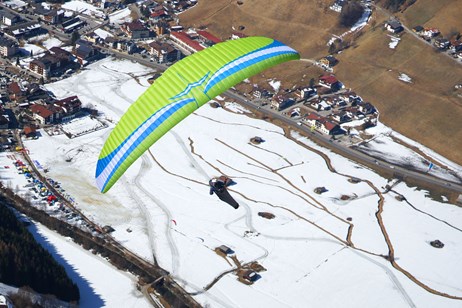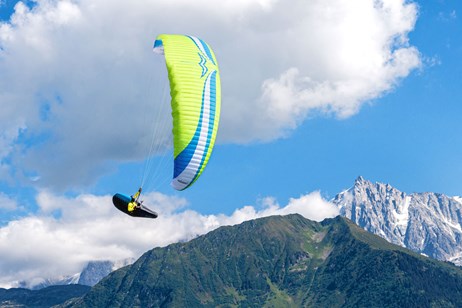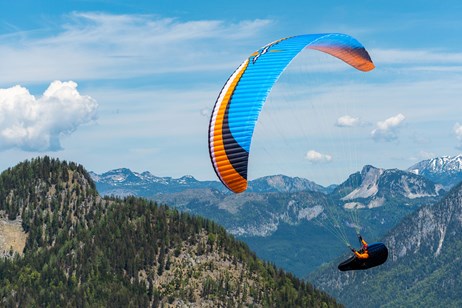 show more photos
Farbdesigns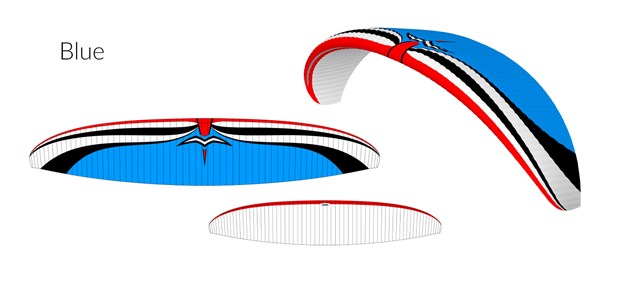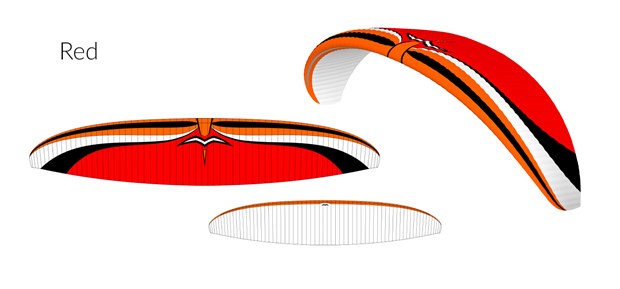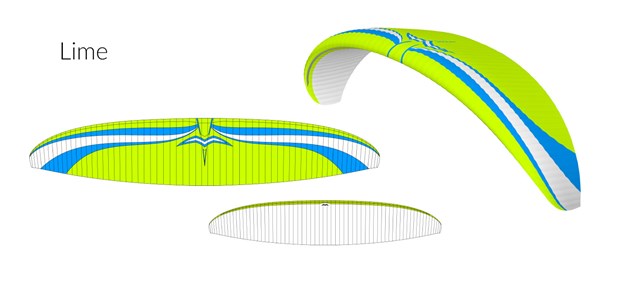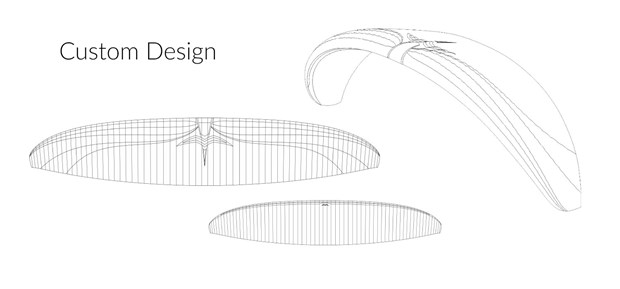 Bewertungen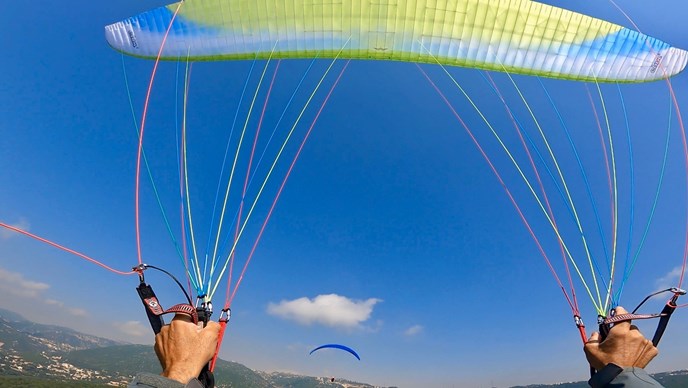 Having flown both earlier versions, I was excited to test fly their latest release. Shark nose, The Elan 3 is manufactured using the excellent lightweight materials from Porcher Sport. The construction and details are superb. The risers have a connection between the B and the C for efficient C steering.

Ziad Bassil
Dust of the universe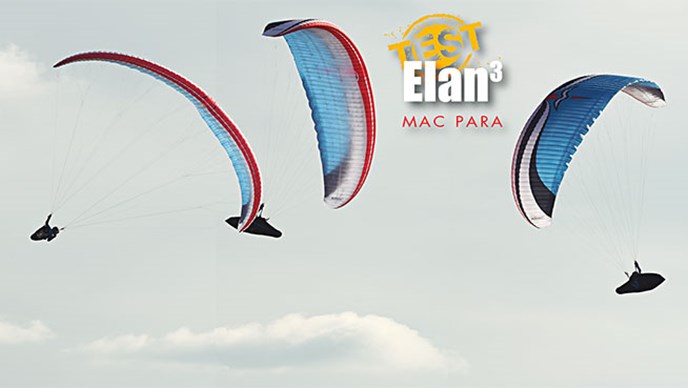 La intermedia de Mac Para ha suavizado su pilotaje hasta el punto de ser más fácil de volar, ligera de freno y templada en cabeceo. Tiene un borde de ataque impecable, dotado de varillas intermedias entre las costillas principales y varillas atrás para mantener la cohesión. Patronaje 3D triple, con dos paños en el extradós y un paño negativo en el intrados delantero, lo que dibuja bien la forma del borde de ataque y del morro de tiburón.

Mario Arqué
Parapente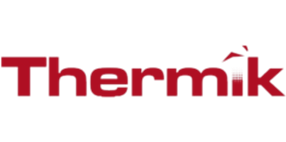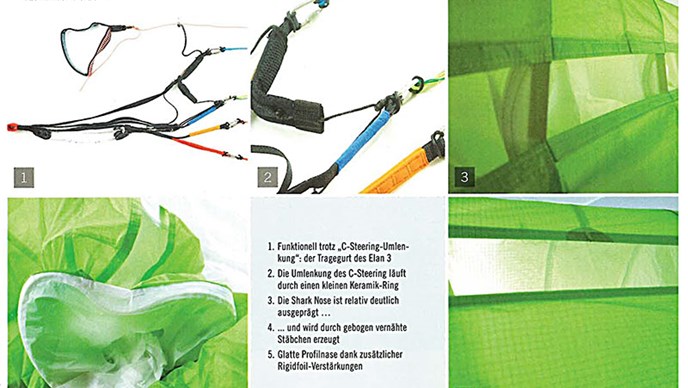 Die 3. Auflage der Elan-Baureihe ist da! Der Vorgänger überzeugte mit einem Traumhandling selbst in kniffligen Bedingungen. Für den Nachfolger propagiert Mac Para das Motto "Fly In Peace – entspanntes Fliegen! Realität oder bloß ein Marketingslogan?

Franz Sailer
Thermik Magazine
Dateien herunterladen
Fotos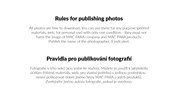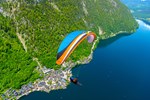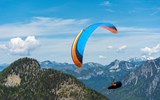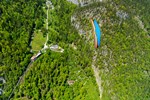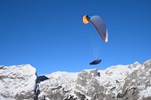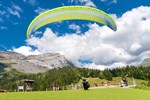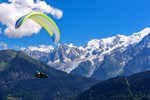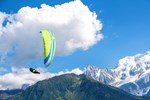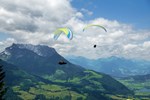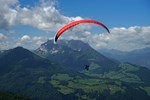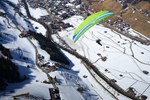 Testberichte
Lieferumfang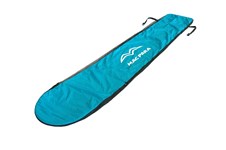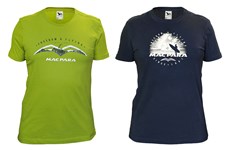 Empfohlenes Zubehör