WATCH THE Official VIDEO ON PARAGLIDING.TV:
#thermalmonkey
Eigentlich waren wir ja auf Geschäftsreise. Wir fuhren vorbei an Frankreichs Fliegerhochburg Annecy, kein Mensch in der Luft. Aber wir hatten den neuen AirDesign Rise 4 im Kofferraum, es zwickte uns einfach zu sehr. Let's try, anyway ! Spontan, frohgemut und spärlich bepackt stiegen wir auf zum Startplatz, da auch die Shuttles nicht ans Flugwetter glauben wollten. Hauptsache draußen, Bewegung in den Bergen ist immer gut.
"Wir sind Alpinisten, nicht wahr?!"
Rise 4 – der Wow Effekt!
Wider Erwarten erwiesen sich die Bedingungen als durchaus fliegbar. Ganz fix packten wir unser nagelneues Spielzeug aus: den wunderschönen Rise 4, gemacht mit Liebe zum Detail, leicht aber solide. Unser Weihnachtsgeschenk ! Kaum in der Luft, versprach das Vario anstatt eines friedlichen Abgleiters unerwartet sanfte Thermik. Biiiip…. Jauchzend und glückselig taumelten wir eine Stunde durch die Lüfte, hier ein Heber, dort eine Blase, geleitet vom Instinkt dieses unglaublichen Flügels, der uns ganz offensichtlich zu besseren Piloten macht. Fazit: Keiner wollte dran glauben, wir schon. Zu Recht ! AirDesign Rise 4: Break your own rules.
Wie beschreibt man den Rise 4 …
Anfänger

25%

25%

Fortgeschrittene Piloten

100%

100%

Experte

75%

75%

Ausbildung

0%

0%

Wettbewerbe

50%

50%

Hike&Fly

80%

80%

XC

100%

100%
… in einem Wort? 
Intuitiv!
… in einem Bild?
Ausgleiten im Sonnenuntergang nach einem epischen XC-Flug im alpinen Frühling
… in einem Traum?
Der Rise 4 ist wie geschaffen für eine spontane Biwak-Tour mit Toplandings ohne Ende!
Und was sagt der Designer?!
"Für alle unsere Schirme denken wir uns einen Claim und einen Hashtag aus. Beim Rise 4 haben wir uns für The Wow effect und #thermalmonkey entschieden. Es sind Worte, die uns beim ersten Flug spontan in den Sinn kamen. Alles ist unglaublich einfach, und gleichzeitig ist der Rise 4 ein Performance-Monster. Der perfekte Flügel schlechthin."
Wusstest du dass…?
Der erste Rise kam 2012 auf den Markt. In Größe M wog er 5,8 Kilos. Dank pfiffigen Designs und ausgewählten Materialien bringt der Rise 4 heute nur noch 4,5 Kilos auf die Waage! Eine spezielle Leichtversion mit optimiertem Innenleben wird im Frühjahr 2020 nachgereicht.
Der erhebliche Zuwachs an Leistung wurde hauptsächlich durch ein neu definiertes Profil und eine trickreiche innere Strukturen erreicht. Mit zusätzlichen Zellen haben wir dem Profil mehr Konsistenz verliehen.
Ausgewählte Materialien machen die Kappe und damit den ganzen Flügel leichter. Nach wie vor bleibt die passive Sicherheit präsenter, als man es in dieser Klasse eigentlich erwartet. Dank Bremsraffsytems ist die Hinterkante immer schön sauber. 
Die neuen Tragegurte ermöglichen ein effizientes B/C-Steering über den gesamten Geschwindigkeitsbereich. Dazu gehört selbstverständlich ein leichtgängiger Beschleuniger über Ronstan-Rollen.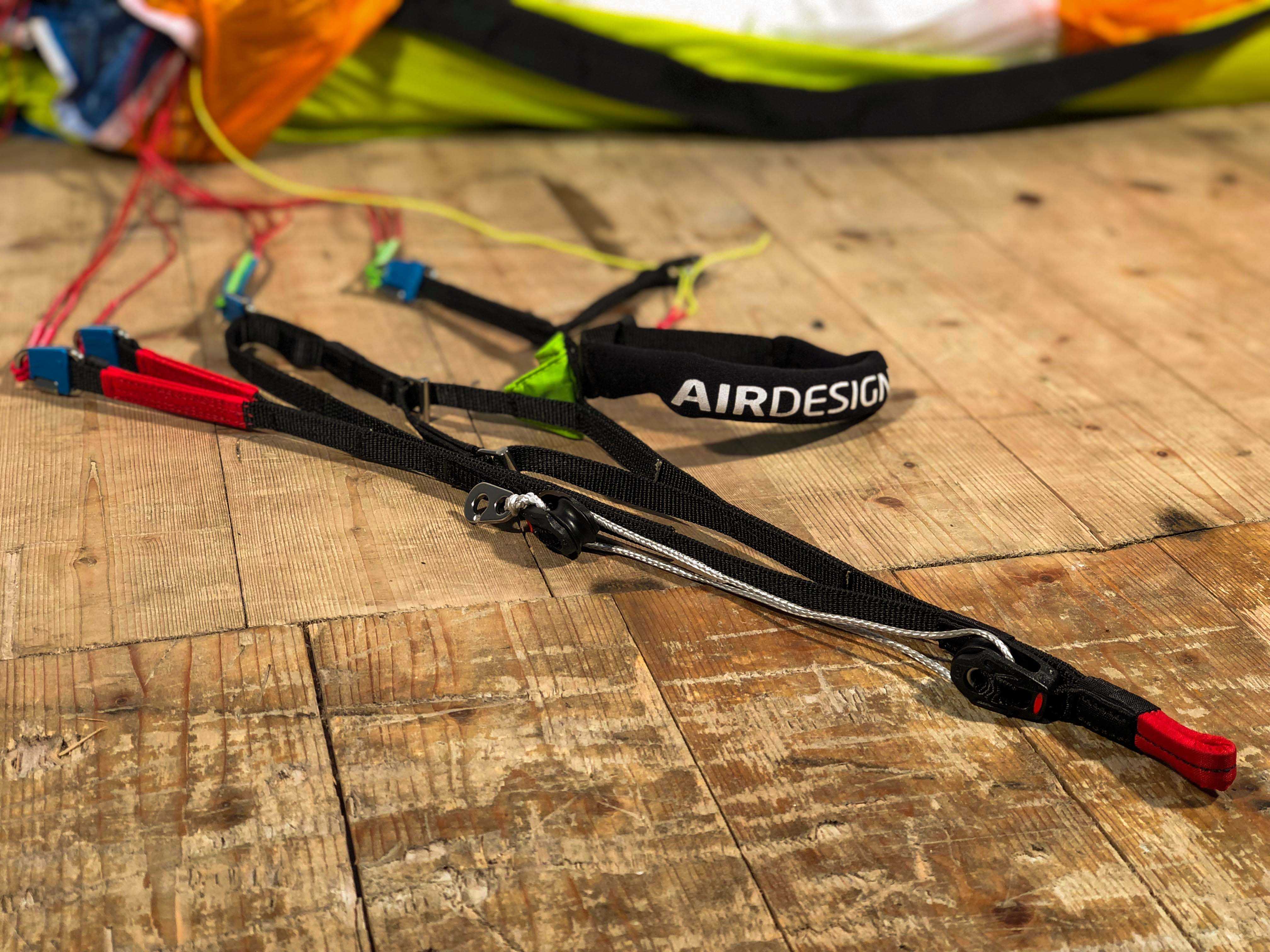 Technische Daten & Farben
Wusstest du dass…?
Größe
XXS
XS
S
M
L
Fläche ausgelegt (m2)
18,77
21,34
23,83
25,91
28,08
Fläche projiziert (m2)
15,97
18,16
20,27
22,04
23,89
Spannweite ausgelegt (m)
10,54
11,24
11,88
12,39
12,89
Spannweite projiziert (m)
8,47
9,03
9,54
9,95
10,35
Streckung ausgelegt
5,92
Streckung projiziert
4,49
Anzahl Zellen
53
Schirmgewicht (kg)
3,59
3,90
4,25
4,52
4,75
V-TRIM/V-MAX (km/h)
38/55
38/55
38/55
38/55
38/55
LTF/EN Kategorie
B
B
B
B
B
Startgewicht (kg)
50-65-72
60-78
72-92
85-105
100-125
* 50-65kg ist die standard Zuladung, 65-72kg ist eine erhöhte Zuladung (beide Bereiche EN-B)
 
 

Sonderfarben gewünscht?
Natürlich kannst du auch diesen Schirm mit Hilfe unseres Konfigurators deinem Geschmack anpassen und in Sonderfarben bestellen!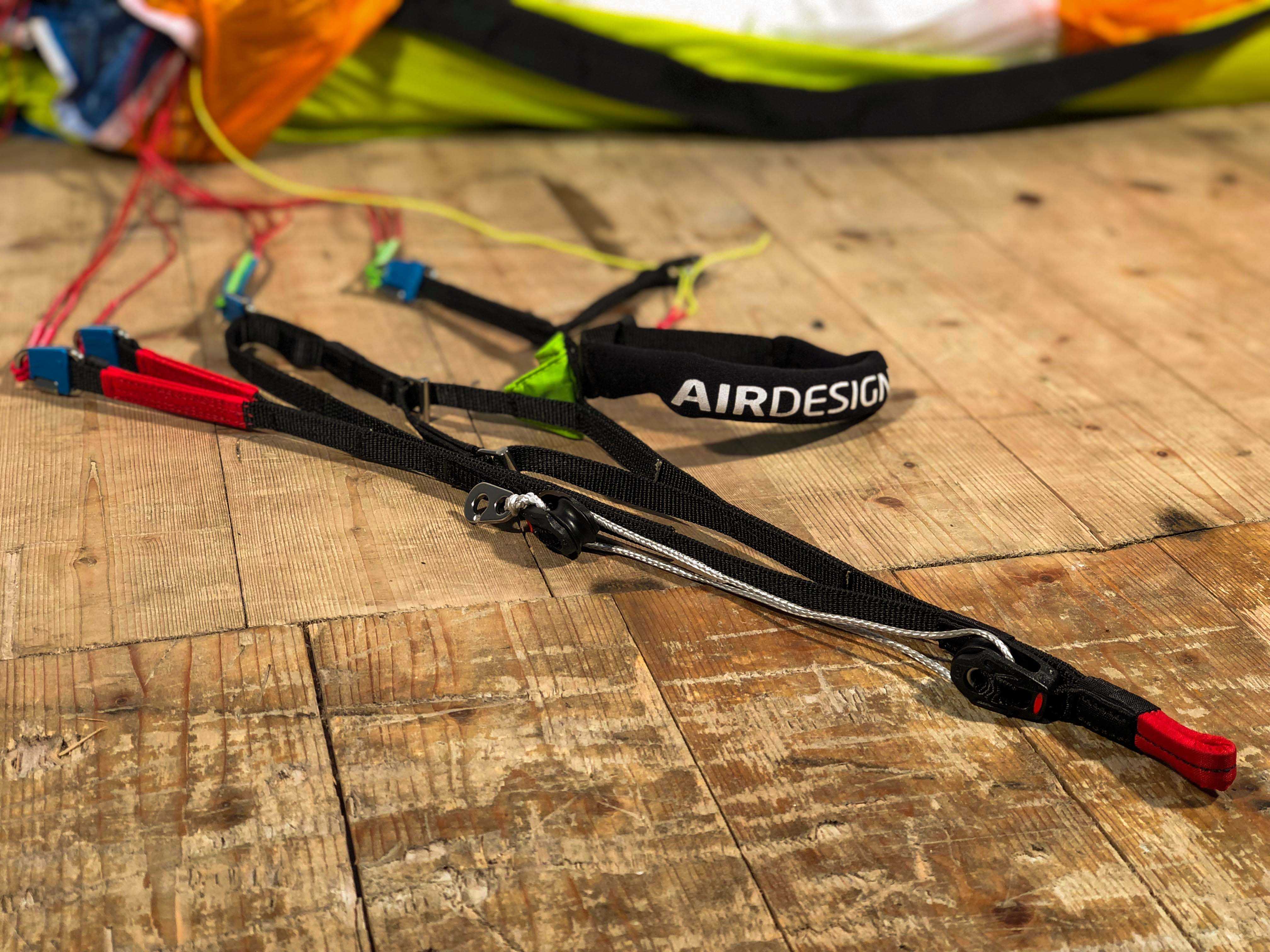 dein Rise 4 – #thermalmonkey Paket
Lieferumfang
Gleitschirm
Mappe mit Handbuch (USB-Stick)
Reparaturmaterialien und AirDesign Aufkleber
That was the Airdesign Rise 3:
Thanks to Stephan Stieglair and :
https://ad-gliders.com/project/rise-4-thermalmonkey/