FLOW COSMOS
HIER DAS AKTUELE VIDEO AUF: www.PARAGLIDING.TV :
Der Cosmos ist ein Schirm von FLOW, der vor allem eins erreichen soll: Dir noch mehr Spaß am Fliegen bereiten! In diesem Sinne hat sich FLOW auf das Handling und den Spaßfaktor am Schirm konzentriert.
Gepaart mit einem "shark nose" Profil und reduzierten Leinen, sitzt der Cosmos im unteren Bereich der EN B-Klasse, aber dank seiner exzellenten Gleiteigenschaften und eines sehr effizienten Beschleunigersystems ist jederzeit eine gute Leistung abrufbar.
Flüge über 200 km wurden während der Entwicklungsphase leicht erreicht. FLOW hat sich viel Zeit genommen, um sicherzustellen, dass der Cosmos ein ausgereifter Gleitschirm wird, der gleichermaßen den erfahrenen XC-Piloten als auch den selbstbewussten Einsteiger anspricht.
Durch seine passive Sicherheit ist er der ideale Schirm für Piloten, die sichere Fortschritte machen und die ersten Erfahrungen im Streckenfliegen sammeln wollen. Er hat eine hervorragende Leistung für seine Klasse und eine sichere Handhabung, die selbst die Piloten mit mehr Erfahrung, die oft in der B-Kategorie fliegen, anlocken wird.
Alle Piloten werden über den Spaßfaktor und die erstaunliche Leistung, die der Cosmos liefert, erfreut sein!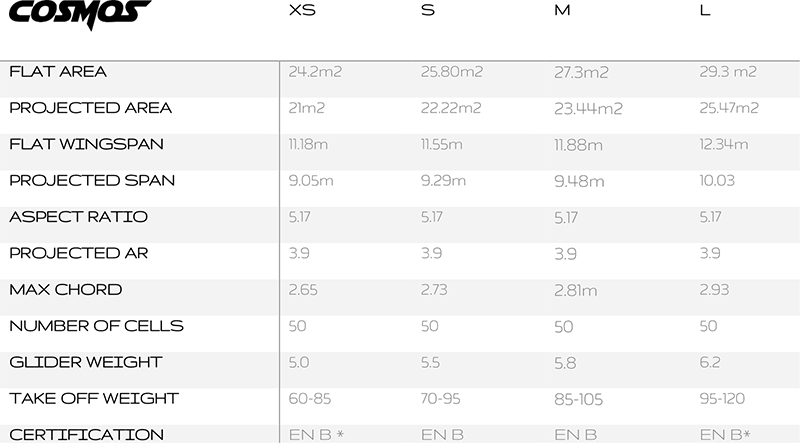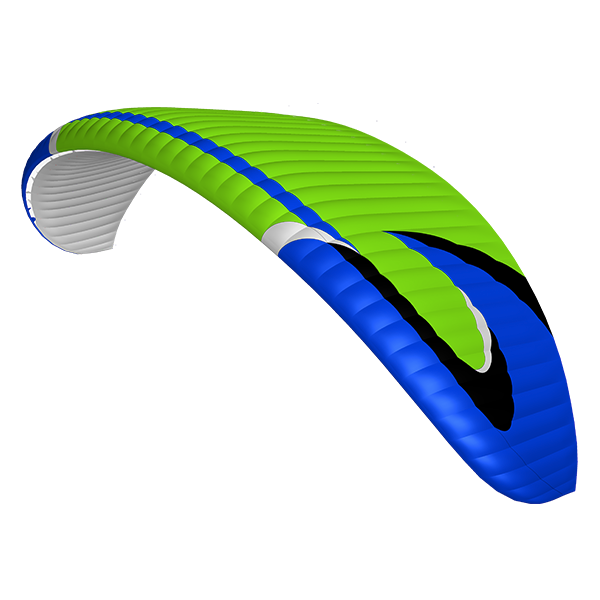 2,2 mb 40 downloads
Weitere Glider:
Flow Freedom
HIER DAS AKTUELE VIDEO AUF:    www.PARAGLIDING.TV :
FLOW Freedom

Freiheit ist unser höchstes Gebot. B. Ein anspruchsvoller Schirm, bei dem keine Kompromisse eingegangen wurden, um die perfekte Balance zwischen Leistung, passiver Sicherheit und spielerischem Handling zu erreichen.
Bauen Sie mit 65 Zellen. Ein 3-Liner mit einem optimierten Linienlayout und einer "soliden" inneren Struktur. Unser Haifischnasenprofil in Verbindung mit einem reduzierten Leinenplan zur Reduzierung des Luftwiderstands sorgt nicht nur für Stabilität und Kollapsfestigkeit, sondern auch für Nickstabilität, die sich in einem angenehmen Flugerlebnis und letztendlich in echter Leistung widerspiegelt. Das Gefühl eines sicheren und wendigen Segelflugzeugs ist auf der Freedom immer präsent.
Die Anzahl der Zellen und das Haifischnasenprofil ähneln einem EN C-Segelflugzeug, aber der reduzierte AR und die passive Sicherheit machen den Freedom zu einem echten High-End-B-Segelflugzeug.
Freiheit wird großenteils aus leichten Materialien gebaut. Unsere Vorliebe galt dem langlebigen und dennoch leichten Porcher Skytex 27g.
Die Vorteile:
Gewichtsreduzierung und kleineres Packvolumen.
Vor allem eine leichte Konstruktion verleiht dem Freedom ein verbessertes Handling und ein mildes Verhalten nach dem Zusammenbruch im Vergleich zu einem normalen Gewichtsgleiter.
Leichtes Aufblasen bei Windstille.
Wie der Name schon sagt, wurde 'Freiheit' für den Entdecker und den Reisenden als Segelflugzeug entwickelt, um das Gefühl der Freiheit zu vermitteln, das Unbekannte zu durchqueren und sich sicher in neue Horizonte zu wagen.
Mit Rücksicht auf Vol-Biv haben wir ein Segelflugzeug entwickelt, das einen großen Geschwindigkeitsbereich und Stabilität bietet, wenn es in der schwierigsten Luft geflogen wird. Die Kombination unseres Hai-Nasen-Profils und der Innenkonstruktion in Kombination mit leichten Materialien macht die Freedom zum idealen Ausstattungsstück für jeden ernsthaften Abenteurer. Ein moderater AR von 5,6 ermöglicht es den Piloten, das Segelflugzeug an diesen engen Stellen zu bremsen und von den anspruchsvollsten Orten aus zu starten. Der Zusammenhalt des Segelflugzeugs ermöglicht es den Piloten, sich ohne Sorgen gegen den Gegenwind zu drücken.
FLOW Freedom Technical Data
| | | | | |
| --- | --- | --- | --- | --- |
| | S | M | L | XL |
| FLAT AREA | 23.45m2 | 26.55m2 | 27.9m2 | 30.40m2 |
| PROJECTED AREA | 20.15m2 | 22.82m2 | 24.02m2 | 26.15m2 |
| FLAT WINGSPAN | 11.47m | 12.23m | 12.54m | 13.10m |
| PROJECTED SPAN | 9.25m | 9.85m | 10.7m | 10.58m |
| ASPECT RATIO | 5.6 | 5.6 | 5.6 | 5.6 |
| PROJECTED AR | 4.21 | 4.21 | 4.21 | 4.21 |
| NUMBER OF CELLS | 65 | 65 | 65 | 65 |
| GLIDER WEIGHT | 3.9 | 4.1 | 4.4 | 4.6 |
| TAKE OFF WEIGHT | 60-85 | 75-100 | 90-115 | 105-130 |
| CERTIFICATION | LTF/EN B | LTF/EN B | LTF/EN B | LTF/EN B |
Materials
CANOPY
FABRIC CODE
SUPPLIER
Leading Edge
Dominico DOKDO 30D MF
Dominico Tech Corp. – Korea
Bottom Surface
Porcher 7000 E71
Porcher Industries – France
Supported Ribs
Porcher 7000 E91
Porcher Industries – France
Unsupported Ribs
Porcher 9017 E29
Porcher Industries – France
Leading Edge Reinforcement
2.5/1.8/ Plastic pipe
Porcher Industries – France
Thread
210D/3, 420D/3
Coats Thread – Thailand
SUSPENTION LINES
FABRIC CODE
SUPPLIER
Upper Cascades
Edelrid 8000U 130/090/070/050kg – Edelrid 9200 030kg
EDELRID – Germany
Middle Cascades
Edelrid 8000U 190/130/090/070/050kg
Edelrid 9200 030kg
EDELRID – Germany
Main Lines
Edelrid 8000U 360/190/130/050kg
Liros DSL 140kg
EDELRID – Germany
LIROS GmbH – Germany
RISERS
FABRIC CODE
SUPPLIER
Shackles
Maillon Rapide
ANSUNG PRECISION – Korea
Riser Webbing
12mm zero stretch polyester webbing
Guth&Wolf GmbH – Germany
Pulleys
Pulleys Ronstan ball bearing
Ronstan – Australia
Bequem mit Hüftgurt und verstellbarem Brustgurt
2 Optionen:

GROSS – 170lts
Farben: Lime / Black
KLEIN – 92lts
Die Freiheit wird geliefert mit:
Flow Paragliders Rucksack
Reperaturset
Flow Paragliders Schlüsselanhänger
Aufkleber
Durchflussgeschwindigkeitsleiste
FLOW Freedom Colours
Quelle: http://www.flowparagliders.com.au/freedom/
Test Flow Freedom Brassil ZIAD
Friday, April 12, 2019
The Freedom is Flow new B glider. The cloth used on this glider is relatively light. It has small semi-circular openings and all the lines are unsheathed. There are lots of lines on this Freedom and some are a bit thick. This configuration seems to last forever without going out of trim.
The Freedom M size like to be loaded right on top. I flew the size M at 100 all up, and it felt quite big but ok for that weight. The launching is easy.
The brake pressure is on the light side. They are a bit long and I could describe the Freedom handling and agility to be on the moderate side. It turns well into the core and has a nice climbing behavior.
The pitch is nearly absent on that machine. The roll is also dampened. Overall it's quite easy to fly. The trim speed is slightly less than a Mentor 6 for example.
After some glide comparisons, the Freedom could be placed in the middle part of this (low-mid-high) B category.
Big ears are stable and efficient. 
It has a low stall speed for landing on small spots. 
This is only my opinion. Make your own !