Red Bull X-Alps 2021 – Race Report: DAY 5
Foul weather hits the front pack
https://www.paragliding.tv/videos/red-bull-x-alps-2021-race-report-day-5/
It was all in the forecast. Early afternoon in Switzerland the weather would take a turn for the worse. And it truly has.
24.06.2021 – 16:26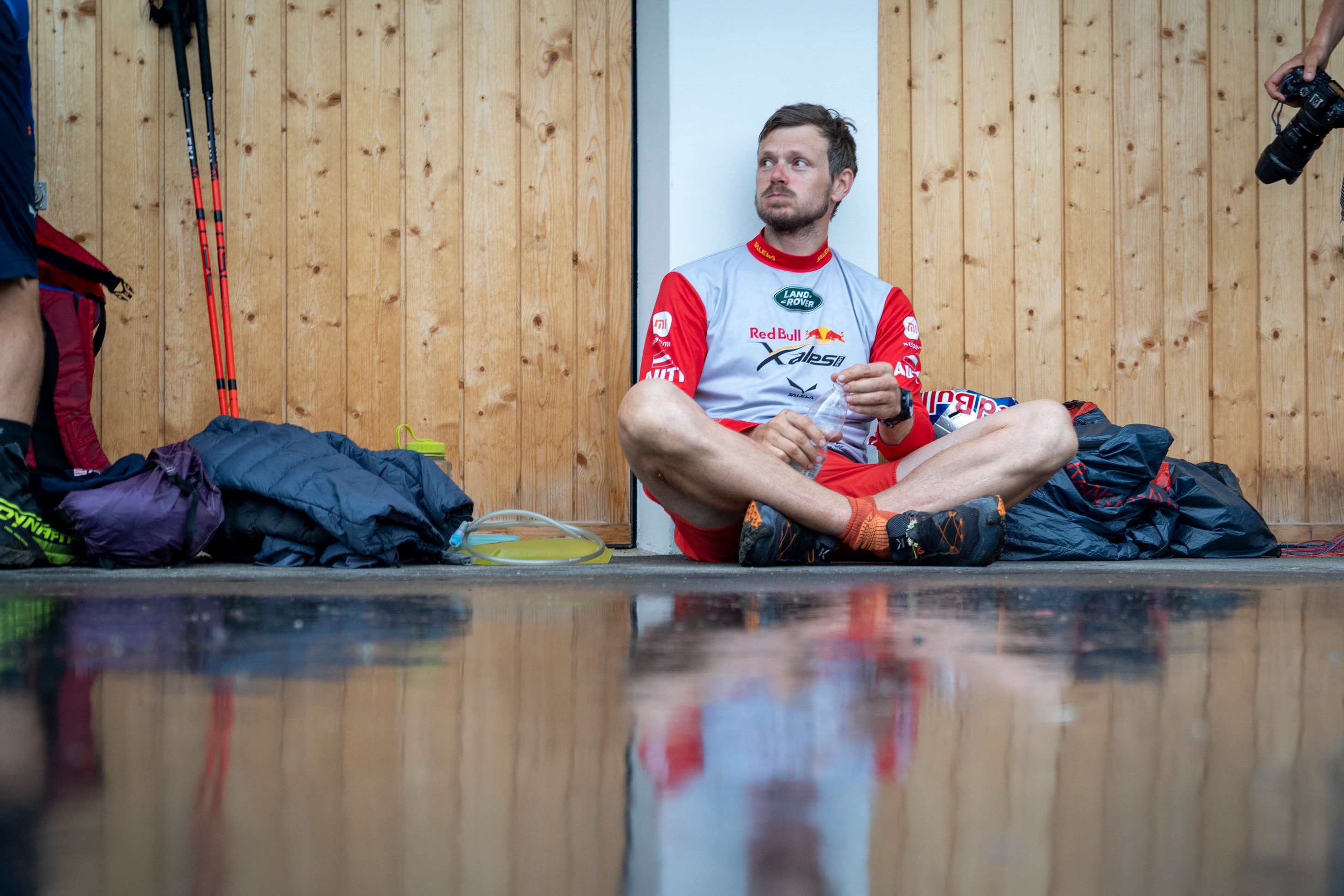 Chrigel Maurer (SUI1) and Patrick von Känel (SUI2) are still together. The contender will just not let go of the champion. They were seen hiking up the Furka pass together, surely gritting their teeth. Howling winds and driving rains make for really foul weather.
However, Chrigel managed to produce a smile. "Germany was better," he grinned. "Yesterday we entered Switzerland and it started to rain. Now it's raining here too." He crossed the pass into a little better weather and he flew away from his followers, increasing his tiny lead of about 10km, on his way to the next Turnpoint Fiesch – Aletsch Arena.
Paul Guschlbauer (AUT1) isn't doing any better, meanwhile. He chose an interesting line after crossing the Walensee just south of Turnpoint 6 Säntis. That was a huge gamble, giving him the option to fly along the Disentis valley.
It's a beautiful valley around Disentis, the famous skiing area. It is near the source of the river Rhine, that the athletes have crossed just yesterday on their way to Turnpoint 6 Säntis. The valley ends in the Furka pass, where the Rhône valley begins.
Paul had to land early in the valley however. He was met by strong westerly winds which did not permit him to avoid flying into airspace. He said: "The problem is the wind is pretty strong and from the wrong direction. I had to land or I would have hit airspace. It is not raining yet but just very windy."
His plan was to catch Chrigel by flying along this valley. The plan obviously didn't work out. "That wind wasn't expected. I don't have a good plan, I will just hike." So that's what he did, and he managed to bag some short flights for faster progress. He expects a window for flying later in the afternoon.
Meanwhile Damien Lacaze (FRA5) has followed the same line. That may not be such a good idea for the rookie, currently in a very respectable 11th position, seeing Paul's slow progress.
In mid-field, Thomas Friedrich (AUT3) is showing a remarkable come-back. He is currently in 15th position and flying, ahead of Manuel Nübel (GER1) who is on the same line along the valley towards Blüdenz on the way to the Rhein valley and Switzerland, but Manuel is on the ground.
At the back, Nick Neynens (NZL) is struggling. He is the only one who didn't pass Turnpoint 5 Lermoos – Tiroler Zugspitz Arena yet. He has pulled his nightpass and will have to fight hard to stay in the race ahead of GavinMcClurg (USA1) who is 31km ahead, to avoid the next elimination tomorrow morning at 06:00am.
Follow the action on Live Tracking!
Slow progress for most
The afternoon has been slow to almost all athletes, owing to really miserable weather.
24.06.2021 – 21:00
Around midday, the weather in Switzerland took a turn for the worse. It started raining, winds were blowing, conditions were realy miserable. Ever since that time, athletes have been grounded and are walking along valleys, drenched by the relentless rains.
Race leaders Chrigel Maurer (SUI1) and Patrick von Känel (SUI2) will surely have imagined this day differently. Both live in the Frutigen valley northwest of the Eiger range. The turnpoint they are at now, TP7 Fiesch – Aletsch Arena, is just on the southh side of that impressive mountain range. Instead of flying in this magnificent high Alpine arena that they know as no other athlete, they are miserably walking along in the rain.
Even in these conditions, the athletes manage to pull off short flights. All five athletes that have crossed the Furka pass by now, Chrigel, Patrick and Aaron Durogati (ITA1), Benoît Outters (FRA2) and Maxime Pinot (FRA1), have taken off from the top and fle down into the Rhône valley in less than ideal flying conditions. Chrigel was seen taking of in strong winds, flying off to the side.
The leading group are on each other's heels and chasing hard. They are just 15km apart.
In the mid-field, Tommy Friedrich (AUT3) is having an amazing day. He flew 195km today in 5,4h, hiking only 31km, putting himself in a respectable 15th place up from 20.
He's got a ways to hike though, because he is crossing the wide Rhine valley right now, catching up with Ferdy van Schelven (NLD) and Tom de Dorlodot (BEL) who have just passed Turnpoint 6 Säntis.
See all athletes positions now on Live Tracking!
A long, wet and slow day
Many athletes are hunkering down early for the night after a long, wet and slow day.
24.06.2021 – 22:30
Today was the day that the field of athletes really spread out. The race leaders are almost halfway near Turnpoint 7 Fiesch – Aletsch Arena with only 664km to go of 1238km.
In five days leading athlete Chrigel Maurer (SUI1) has covered 574 km, over 100km per day. In marginal conditions, because whereas in the first days the flying conditions were better than expected, although with strong winds, especially today saw foul weather with thunderstorms, pouring down rain and strong winds.
It was also the day that young rookie Tommy Friedrich (AUT3) pulled off 195km of flying, along a line where others also flew, but much less. His skill in the air has brought him to 15th place and within a stone's throw of Ferdy van Schelven (NLD) who is at the flanks of Turnpoint 6 Säntis, in 14th place.
The race leaders have all been battling the same horrible weather. After Chrigel and Patrick von Känel (SUI2), Aaron Durogati (ITA1), Maxime Pinot (FRA1) and Benoît Outters (FRA2) and Simon Oberrauner (AUT2 were following the same line over the Furka pass and along the Rhône valley.
Most of the time they were in heavy rains, but in short gaps of more or less flyable weather they all got short glides with their paragliders to at least shorten the way on foot by some kilometers.
Paul Guschlbauer (AUT1) didn't have a particularly good day either. He choose a special line again, moving much more south than all the others after crossing the Walensee near Turnpoint Säntis.
Paul meant to fly along the valley of Disentis, but he was soon grounded. A strong westerly wind made him land, because apart from the uncomfortable flying conditions, he also had to avoid being pushed into restricted airspace. The rest of the day he walked along the Disentis valley floor.
At the very back, Nick Neynens (NZL) has put up a fight he is not going to win anymore, unless a miracle happens. He's been sitting on the top of Kreuzjoch near Garmisch-Partenkirchen, in better weather a popular paragliding spot.
With a distance of over 30km to Gavin McClurg (USA1), even a Nightpass isn't going to save him from being eliminated tomorrow morning at 06:00am. He's got a sore foot which is slowing him down while walking.
The weatherforecast for tomorrow is not optimistic, with more rain and storms predicted. That will mean a footrace again for most athletes. Let's hope they're up for this challenge, it's all part of the adventure!
See the athletes positions now on Live Tracking!