TECHNISCHE DATEN
XS
S
M
ML
L
SKALIERUNGSFAKTOR
0.96
1
1.04
1.08
1.12
PROJIZIERTE FLÄCHE (M²)
17.7
19.7
21
24.5
26.3
AUSGELEGTE FLÄCHE (M²)
21
23
25
27
29
SCHIRMGEWICHT (KG)
2.78
2.99
3.14
3.36
3.54
GESAMTLEINENLÄNGE (M)
227
233
244
254
263
HÖHE (M)
6.7
7
7.1
7.5
7.8
ANZAHL DER LEINENEBENEN (A/B/C)
3/4/3
ZELLEN
37
AUSGELEGTE STRECKUNG
4.8
PROJIZIERTE STRECKUNG
3.6
MAXIMALE PROFILTIEFE (M)
2.6
2.7
2.9
3
3.1
AUSGELEGTE SPANNWEITE (M)
10.1
10.5
10.9
11.4
11.8
PROJIZIERTE SPANNWEITE (M)
7.9
8.2
8.6
8.9
9.2
TRIMM GESCHWINDIGKEIT (KM/H)
38
HÖCHSTGESCHWINDIGKEIT (KM/H)
50
MINIMALES SINKEN (M/S)
1
BESTES GLEITEN
9
ZUGELASSENES STARTGEWICHT (KG)
50-70
65-80
75-95
85-108
100-125
EXTENDED WEIGHT RANGE (KG)
70-80
80-90
95-105
108-117
125-130
ZULASSUNG (EN/LTF)
A
BESCHREIBUNG
'Anda' heißt Atem oder Geist auf Isländisch. Es ist unsere leichte, lebensfrohe kleine Seele, ein Begleitgeist der Berggeher, Reisenden und den nine-to-five Flüchtlingen. Der Ada ist leicht und klein genug um ins Handgepäck zu passen, sicher und komfortabel so dass du ihn Selbstsicher auspacken kannst, um neue Orte zu erkunden. Er ist gemacht, um das Leben bei den Hörnern zu packen, den Sprung zu wagen und wo immer möglich Abenteuer zu finden.
Die zwei kleinsten Größen wiegen unter drei Kilo und die fünf verfügbaren Größen decken einen Gewichtsbereich von 50Kg bis 130kg ab.
Der ANDA hat erweiterte Gewichtsbereiche. Das heißt, er kann mit einer höheren Beladung als dem Standard Gewichtsbereich geflogen werden, praktisch um zusätzliches Equipment mitzunehmen um zum Beispiel in den Bergen zu campen. Er ist EN/LTF A zugelassen sowohl im Standard als auch im erweiterten Gewichtsbereich, das Flugverhalten ändert sich jedoch leicht.
Im Standard Gewichtsbereich bekommt man geringes Sinken und gute Thermikeigenschaften. Kurven sind einfach dosierbar und man kann ihn in schwacher Thermik flach drehen.
Im erweiterten Gewichtsbereich ist die Beladung höher, der Schirm also schneller und dynamischer. Das Handling ist direkter jedoch ist es schwieriger in schwachen Bedingungen oben zu bleiben. Normalerweise wird dieser Bereich für Bergabstige oder Starkwindsoaring genutzt.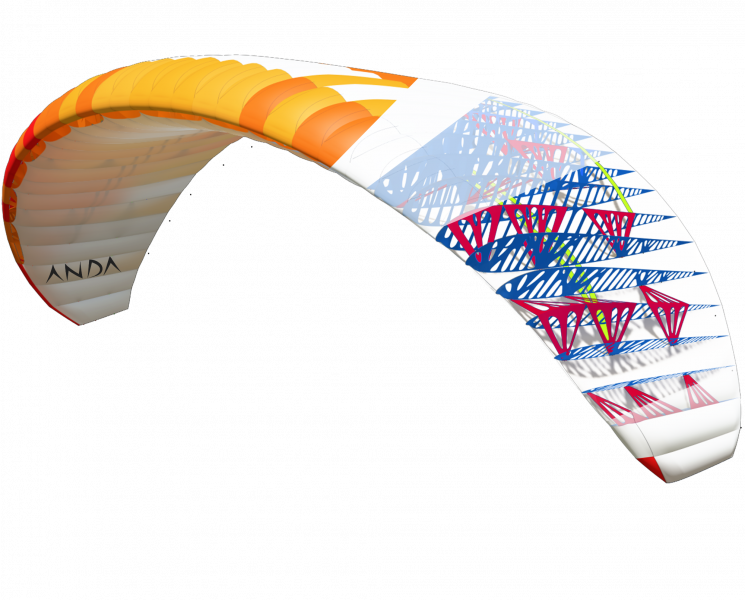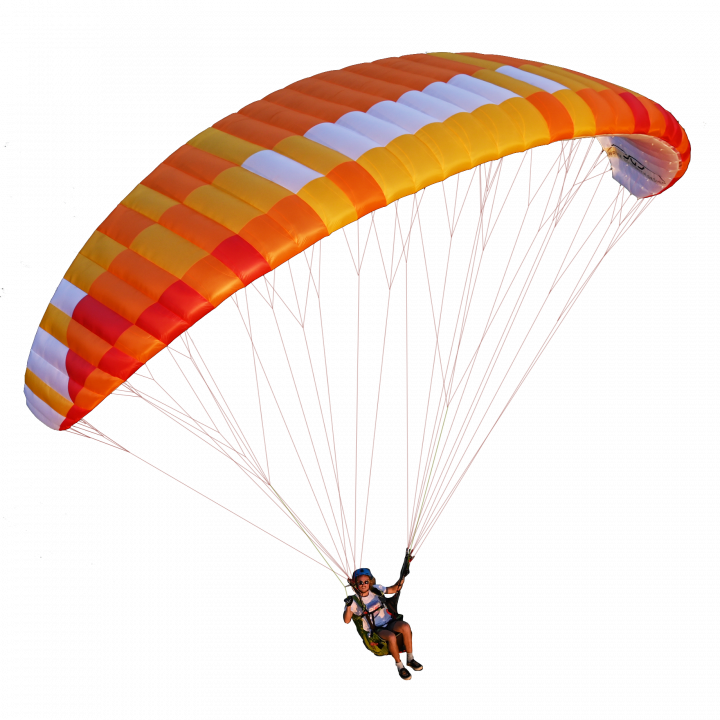 KONSTRUKTIONSMERKMALE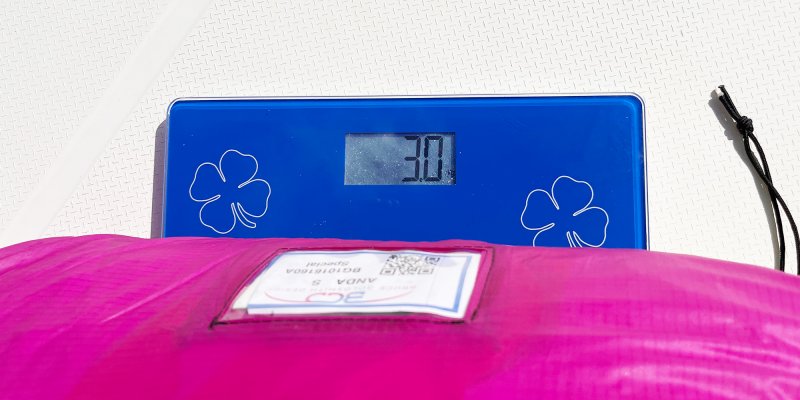 SUPER LIGHT WEIGHT
Gut für deine Schultern und die Gepäckbeschränkungen, der Anda ist leicht… die zwei kleinsten Größen wiegen unter 3Kg. Dein Wasser wird fast gleich so schwer sein.
ZIEL
Der ANDA wurde als leichter, Anfänger freundlicher EN-A Schirm konzipiert. Ein Hike and Fly Schirm, den jeder fliegen kann. Er hat eine gute Leistung und ein spaßiges Handling, sodass man die frühe Morgen-Thermik kurbeln kann, entlang der Klippen in den Sonnenuntergang soaren kann, oder auch von einem exponierten Berggipfel starten kann und dabei weiß, dass man es sicher bis zur Landung schaffen wird. Ein guter erster Schirm für Piloten, die gerne wandern, aber wie alle Leichtschirme will auch dieser behutsam behandelt werden.
ANMERKUNGEN DES DESIGNERS
Es war eine interessante Reise für das R&D Team, experimentieren mit Materialien und Techniken, um einen Schirm zu bauen, der leicht, einfach und sicher, mit guter Soaring und Thermik Leistung ist. Alle Materialien wurden so gewählt, dass der ANDA eine gute Balance aus Leichtigkeit und Nutzbarkeit bietet. Wir haben ihn maximal leicht gebaut und nur zusätzliches Gewicht in Kauf genommen, wenn es das Handlich oder die Haltbarkeit verbesserte.
Das Tuch ist doppelseitig beschichtetes Porcher Skytex 27das seine Haltbarkeit schon bewiesen hat, Die unummantelten Kevlar Leinen sind die neusten Edelried Pro Dry welche durch ihre Beschichtung 60% mehr wasserabweisend sind.
Der ANDA kommt mit Softlinks als Standard, diese sind leicht, stabil und verhindern harte Stellen in der Verbindung zwischen Pilot und Schirm. Die Verwendung von flexiblen Materialien angefangen beim Tragegurt bis hoch zum Schirm macht einfach Sinn. Es ist sowohl leichter als auch eleganter. Die Softlinks müssen nicht oft geöffnet werden, aber wir haben ein kurzes Video gemacht um zu zeigen wie einfach es ist, falls du sie doch einmal öffnen musst <>
Die Tragegurte sind aus leicht handelbarem 12mm Kevlar Band mit dünn gepolsterten und mit Snap locks ausgestatteten Steuerschlaufen. Snap locks sind mittlerweile Standart in der Gleitschirmszene, nachdem BGD diese als erste 2016 verbaut hatte. Genau wie am Base 2 lite sind am Beschleuniger anstelle von Brummelharken nun universelle Schlaufen mit Knoten. Diese sind universell, lassen sich also mit einem Koten, mit einer Schlaufe und mit Brummelharken verbinden ohne das Risiko, dass sie sich ungewollt lösen.
Das Starten mit dem ANDA ist von leichtem Rückenwind bis hin zu starkem Wind unfassbar einfach. All unsere Testpiloten haben explizit erwähnt, wie einfach der Schirm besonders bei leichtem wind über dem Piloten steht. Weiterhin haben wir sichergestellt, dass auch zu starker Zug an den A-Leinen vergeben wird, sodass er auch für Anfänger leicht zu starten ist. Die nidrige Stall-Geschwindigkeit und der sehr hohe Bremsdruck nahe dem Stallpunkt sind große Sicherheitsfaktoren. Es ist schwer den Schirm ungewollt zu ei oder beidseitig abzureißen. Falls es dir trotzdem passiert, wird er sehr schnell wieder fliegen.
Wir lieben Stressfreies packen, daher haben wir eigens für den ANDA einen kleineren Compressbag entwickelt. Das heißt, der Schirm ist einfach zu packen und am Ende ein kompaktes Päckchen, das in jeden Rucksack passt.
FLIEGEN NIVEAU / STIL
BEGINNER
INTERMEDIATE
ADVANCED
STRECKENFLUG40%
HIKE & FLY100%
FREESTYLE40%
PARAMOTOR10%
GROUND-HANDLING100%
AUSBILDUNG90%
LIEFERUMFANG
Gleitschirm / Compression bag / Giveaway / Manual card / Stickers / Beschleuniger / Reparaturmaterial / Tragegurttasche
MATERIALIEN
| | |
| --- | --- |
| TOP SURFACE | Porcher Skytex, Classic II 27g/m², 32g/m² |
| BOTTOM SURFACE | Porcher Skytex Classic II 27g/m² |
| INTERNAL STRUCTURE | Porcher Skytex hard finish 27g/m² |
| NOSE REINFORCING | Plastic wire |
| TRAGGURTE | 12mm Kevlar / Nylon webbing |
| PULLEYS | Low-friction rings |
| TOP LINES | Edelrid Magix Pro Dry 8001U |
| MIDDLE LINES | Edelrid Magix Pro Dry 8001U |
| LOWER LINES | Edelrid Magix Pro Dry 8001U |
| BRAKES | PPSL, Edelrid Pro 8001U |
DOWNLOADS
VIDEOS
15-03-2023
A safe and fun paraglider that weighs just 2.78kg in XS. But how? MEHR
01-03-2023
Take The Leap! Paula works through a childhood fear of heights with the help of flashbacks of her friends flying the Anda paraglider. MEHR
19-05-2023
On 18 May 2023, BGD Team Pilot Li Shengtao, known to his friends as Muzi, flew from the South Col of Everest, 8,000m, landing safely at base camp on his BGD Anda XS.
Quelle: https://www.flybgd.com/de/gleitschirme/anda–gleitschirme-2021-1888-0.html