Die noch sehr junge, tschechische Marke Drift Paragliders, mischt mit ihren ersten Gleitschirmtypen schon sehr stark mit an sehr hochwertigen vergleichbaren Highendgeräten anderer guter Hersteller.
Den Testschirm hat uns freundlicherweisse Michal Bechyne – Generalvertrieb von AUT/GER zur Verfügung gestellt – https://www.parapeak.de …vielen Dank dafür… 🙂

Paragliding.EU hat mit dem Drift Merlin den zweiten Schirm der Drift Serie getestet.
Unser erster Drift- Testschirm war der High B Schirm Drift Hawk!
Klicke hier um den gesamten Testbericht zu lesen:
Drift Hawk High B – mit starker Leistung- Unser Test auf Paraglding.EU
Der Drift Merlin Kategorisiert sich in das Mittel C-Level ein.
Er ist gebaut als reiner Zweileiner, welches es seit kurzem erlaubt auch in der C- Zertifizierung gebaut werden zu dürfen.
Schon vorab können wir sagen,
"der Drift Merlin ist ein allseits gelungener, attraktiver, leistungsstarker Streckenschirm mit grossem Wohlfühlcharakter"
Sieh das Vergleichsvideo auf Paragliding.TV:
https://www.paragliding.tv/videos/raw-clip-from-the-race-drift-merlin-m-vs-sol-lt2-xl-vs-enzo-3-m/
Drift Merlin

Getestet wurde die Größe S mit einem Startgewicht von 91 kg.

Die Größe S geht von 77- 92 kg mit einem Gewicht von nur 4,5 kg,
somit ist der Merlin eine Semi Light Version mit leichteren Tüchern.
Größe M geht von 88-104 kg
Geflogen wurde der Merlin in mehreren Flügen in Italien und Österreich mit Liegegurtzeug!

Stanislav Kikar, Eigentümer der Marke Drift, gewinnt 2023 die Komplett- Gesamtwertung des neuen Bewerbes, Nova Pargliding Grand Prix, in der Gesamt Kategorie mit dem neuen Drift Merlin: https://paraglidinggp.org/gp-ranking-overall
Der Kappe des Merlin ist sehr schön verarbeitet, hat eine überschaubare Streckung mit einem auffallenden schönen Design ohne jeglichen Falten im Segel .
Beim starten vorwärts, können gerne die Ohren als ersteres hochkommen und danach erst die Mitte des Schirmes. Es empfiehlt sich den Merlin sehr stark Bogenförmig aufzulegen und teils mit der wieder neuerem Starttechnik, Hände mehr nach oben und zusammen, anstatt breit gefächerten, ausgestreckten Händen zu starten. Es bevorteilt sich auch mehr die mittlerern Leinen der A-Ebene zum aufziehen zu nehmen.
Dann aber kommt der Merlin trotz Streckung recht angenehm nach oben.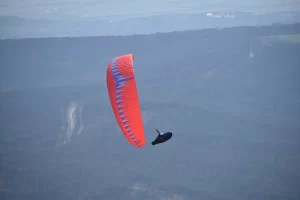 Beim Rückwärtsstart empfiehlt es sich die Kappe etwas vorzufüllen. Generell braucht der Flügel ein bisschen mehr an Zug beim aufziehen, was bei anderen Semilight Herstellern Kraftschonender ist , was aber auch beim Merlin keine Probleme dar stellt.
Ansonsten kann die Kappe beim Start sehr gefühlvoll und dosierbar nach oben geführt werden.
Beim Thermikfliegen fühlt man sich sofort eins und sehr wohl.
Die Kappe zieht sehr schön und stabil in die Thermik rein und lässt sich dabei hervorragend gut nachdosieren.
Generell gibt der Merlin sehr viel an Feedback weiter, was einem immer ein gutes Gefühl über Umgebung und Luft wissen lässt. Die Eintrittskanten steigen schön in die Thermik rein ohne viel an Geschwindigkeit zu verlieren oder sich aufzustellen oder zu Nicken. Das ergibt einen schönen gleichmässigen Flow beim Einstieg in eine aufsteigende Blase.

Wir waren bei unserem Testschirm ca. 1kg unter dem Maximum des Gewichtsbereichs, dadurch waren wir im steigen so ca. im Mittelfeld anderer Gleitschirme.
Diesen Steigtest müsste mit einer wenigeren Belastung durchgeführt werden um genauere Vergleichswerte dazu zu bekommen.
Als Vergleich zum Gleiten haben wir den Drift neben dem Hochleister Gin Leopard (D-Level) geflogen.
Auch hier braucht sich ein C-Level Schirm nicht mehr ganz zu verstecken 🙂
Im Trimm sinkt der Merlin hier ganz leicht weg.
Bei circa halb beschleunigter Geschwindigkeit ist der Merlin so gut wie gleich auf und steht dem Leopard hier um nicht viel nach.

Auch bei der C Kategorie spürt man das schöne Gefühl des feinen 2 liner Feelings.
Die B- Steuerung ist sehr angenehm und funktioniert im Kurvenflug sowie auch bei getretenem Beschleuniger sehr gut.
Der Beschleuniger ist recht einfach zu betätigen.


Die Spirale ist mit sehr gutem Gefühl einzuleiten und gut nachdosierbar. Die G- Kräfte dabei sind gut überschaubar!


Die Aussenohren können groß angelegt werden, hier empfiehlt es sich aber höher oben in die Leinen zu greifen.
Durch die dünnen Leinen können diese etwas leichter verhängen, gehen aber mit dosiertem anbremsen wieder schnell auf.

Der Drift Merlin hat eine mittlere Streckung mit 67 Zellen und ist ein agiler Schirm, der gefühlvoll zu steuern ist.
Hier die technischen Daten:
| Size | XS | S | M | L | XL |
| --- | --- | --- | --- | --- | --- |
| Flat surface (m²) | 20,45 | 22,50 | 24,17 | 26,14 | 28,45 |
| Projected surface (m²) | 17,58 | 19,34 | 20,77 | 22,46 | 24,45 |
| Span (m) | 11,3 | 11,85 | 12,28 | 12,77 | 13,33 |
| Projected span (m) | 9,14 | 9,59 | 9,94 | 10,33 | 10,78 |
| Aspect ratio | 6,3 | 6,3 | 6,3 | 6,3 | 6,3 |
| Projected aspect ratio | 4,75 | 4,75 | 4,75 | 4,75 | 4,75 |
| Number of cells | 67 | 67 | 67 | 67 | 67 |
| Bridle length (m) | 176 | 185 | 191 | 200 | 211 |
| Glider weight (kg) | | 4,53 | 4,82 | 5,17 | |
| Ideal weight range (kg) | 70-80 | 81-92 | 93-104 | 105-117 | 118-130 |
| Weight range (kg) | 65-80 | 77-92 | 88-104 | 100-117 | 112-130 |
| Certification | | EN-C | EN-C | EN-C | |
WATCH THE VIEDO ON Paragliding.TV "KLICK HIER":
https://www.paragliding.tv/videos/drift-merlin-in-beskydy-open-2023-glide-test-against-photon-and-enzo-3/
Flug Report – Quelle:  PARA-TEST.com :
Das ausgezeichnete Handling mit dem Gefühl von guter Sicherheit und eine Kappe die sehr stabil in der Luft liegt, sind sicher eines der schönen Merkmale des Merlin.

Das man sich unter diesem Gleitschirm gleich wohl fühlt und dabei noch einen sehr wendigen, schnellen leistungsstarken Schirm hat, macht den Merlin sicher zu einen der herauszuhebenden C- Zweileiner den es sich  lohnt  mal Test zu fliegen.


Quelle  Fotos:
Deutschland Generalvertrieb Michal Beychne https://www.parapeak.de
Paraglding.EU
Drift Paragliders
Die BESCHREIBUNG DES HERSTELLER DRIFT PARAGLIDERS:


Drift Merlin
Die jüngste Regeländerung, die die Verwendung von Faltleinen in der unteren Kategorie erlaubt, hat unsere Pläne zur Entwicklung des ultimativen Cross-Country-Flügels erheblich verfeinert. Unser Ziel war ein Segelflugzeug mit moderater Streckung und minimalem Luftwiderstand. Der Zweileiner verkörpert das ideale aktive Pilotenerlebnis und ermöglicht es Ihnen, die hervorragende Gleitleistung beim Manövrieren durch hintere Tragegurte zu genießen, ohne sich Gedanken über die Stabilität oder die Regeneration der Kappe machen zu müssen. Machen Sie mit und lernen Sie Merlin kennen!
Für wen ist dieser Schirm?
Merlin ist die ultimative Wahl für Sie, wenn Sie sich lieber auf Flugtaktiken konzentrieren als auf die Lösung von Zusammenbrüchen. Mit seiner außergewöhnlichen Widerstandsfähigkeit und Stabilität auch in turbulenter Luft, gepaart mit hoher passiver Sicherheit und intuitivem Handling bietet dieser Flügel ein unvergleichliches Flugerlebnis.
Dieses Segelflugzeug ist auf fortgeschrittene Piloten zugeschnitten, die jedes Jahr über 50 Flugstunden zurücklegen, und auf diejenigen, die sich ein dynamisches und dennoch sicheres Flugabenteuer wünschen. Die Zweileinerkonstruktionen haben im letzten Jahrzehnt durchweg hervorragende Leistungen gezeigt, und viele Piloten, die dieses Konzept ausprobiert haben, zögern, zu herkömmlichen Konstruktionen zurückzukehren. Achtung: Wenn Sie Merlin einmal ausprobiert haben, werden Sie vielleicht einer von ihnen!
Technologien
Anti-Flutter-Einlass
Flattern der Kanten an den Lufteinlassöffnungen ist insbesondere bei einem beschleunigten Flug ein häufiger Schönheitsfehler, der den Gesamteindruck eines Segelflugzeugs beeinträchtigen kann. Beim Fliegen mit geringeren Anstellwinkeln verändert sich die Spannung um die Einlassöffnungen und die Vorderkante im Allgemeinen. Dies liegt an der unterschiedlichen Beschleunigung der einzelnen Segmente und auch daran, dass bei höherer Geschwindigkeit einfach mehr Luft einströmt. Deshalb nähen wir an den kritischsten Stellen spezielle, präzise lange Schnüre ein.
AFI
VERRÜCKT
ESS
VZÄ
Technische Daten
| Größe | XS | S | M | L | XL |
| --- | --- | --- | --- | --- | --- |
| Flache Fläche (m²) | 20,45 | 22,50 | 24,17 | 26,14 | 28,45 |
| Projizierte Fläche (m²) | 17,58 | 19,34 | 20,77 | 22,46 | 24,45 |
| Spannweite (m) | 11,3 | 11,85 | 12,28 | 12,77 | 13,33 |
| Projizierte Spannweite (m) | 9,14 | 9,59 | 9,94 | 10,33 | 10,78 |
| Seitenverhältnis | 6,3 | 6,3 | 6,3 | 6,3 | 6,3 |
| Projiziertes Seitenverhältnis | 4,75 | 4,75 | 4,75 | 4,75 | 4,75 |
| Anzahl der Zellen | 67 | 67 | 67 | 67 | 67 |
| Zaumzeuglänge (m) | 176 | 185 | 191 | 200 | 211 |
| Gewicht des Segelflugzeugs (kg) |   | 4,53 | 4,82 | 5,17 |   |
| Idealer Gewichtsbereich (kg) | 70-80 | 81-92 | 93-104 | 105-117 | 118-130 |
| Gewichtsbereich (kg) | 65-80 | 77-92 | 88-104 | 100-117 | 112-130 |
| Zertifizierung |   | EN-C | EN-C | Im Gange |   |
Materialien
Weitere Daten finden Sie im Segelflughandbuch.
Obersegel
Skytex 32 Everlast
Skytex 27 doppelt beschichtet
Unteres Segel
Skytex 27 doppelt beschichtet
Rippen
Skytex 27/40 Hard Finish
Verstärkung
Skytex-Patch, Skyforce 160, Nylonstäbe,
Linien
Liros (ummanteltes Dyneema) PPSL 120, 160 / TSL 220
Edelrid (Unummanteltes Aramid+Technora) 8000/8001-U (50-90-190-230-280-340)
Im Gleitschirm enthalten
Downloads
Linienplan
Quelle: https://driftgliders.com/paragliders/merlin