BGD Epic EN/LTF-B:
Das Ziel
Wir schreiben das Jahr 1989 auf der Isle of Wight, England, als der junge Bruce Goldsmith Tag und Nacht damit beschäftigt ist, all seine Ideen in den Black Magic zu stecken. Am Ende erfüllte dieser Gleitschirm seine Träume und brachte ihm Einträge in die Geschichtsbücher. Jetzt, mit dem Epic, können sich Piloten auf Ihre eigene epische Reise begeben. Der Epic ist der ideale Schirm für Piloten, die zum ersten Mal den Hausbart verlassen aber ebenso ein spaßiger Allrounder für erfahrene Piloten.
Beschreibung BGD Epic EN/LTF-B
Der Epic ist ein intuitiver, sicherer und optisch ansprechender Gleitschirm. Er wurde für dein Wohlbefinden entworfen, was auch immer Dir auf Deiner Reise begegnet. Ob anspruchsvolle Leethermik oder aufbrausender Talwind, der Epic ist Dein Partner auf der Reise. Sein progressives Klapperverhalten bedeutet, dass er Dich mit kleinen Warnklapper über Turbulenzen informiert, anstatt Dich unerwartet mit großflächigen Klappern zu überraschen. Seine Shark-Nose, die Miniribs, der leichtgängige und effiziente Beschleuniger, die elliptischen Stabilos und sein langer aber direkter Bremsweg ergeben zusammen eine optimale Mischung aus Sicherheit, Handling und Leistung. Der Epic gibt Dir die Sicherheit um über die höchsten Berge zu fliegen oder die tiefsten Täler zu queren.
Notizen von Bruce zum BGD Epic EN/LTF-B
Ich weiß, dass ich privilegiert bin eine so außergewöhnliche Sportart gefunden zu haben.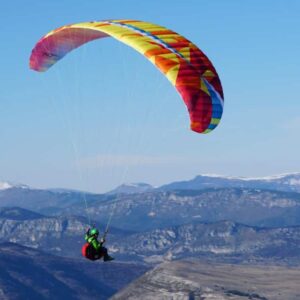 Auf meiner eigenen Reise habe ich genau herausgefunden, zu was ein Pilot bereit sein muss, sowie versuchen sich auf seine Reise einzulassen. Ich habe mir eine Liste geschrieben, welche der Epic erfüllen soll und habe in nach diesen Punkten konstruiert. Eine Streckung von 5.0 ist die perfekte Balance zwischen Sicherheit und Leistung. Mit nur 42 optimierten Zellen, ist der Epic ein einfacher, robuster und sauberer Schirm. Ich gab dem Epic ein leichtes Profil und eine Krümmung, die es dem Piloten erlaubt, sich auf das Fliegen zu konzentrieren und dabei mit hoher Sicherheit zu fliegen. Ich wünschte, ich hätte den Epic gehabt, als meine Reise begann.
Materialien des BGD Epic EN/LTF-B
Obersegel: Dominico N30
Untersegel: Dominico N20
Rippen/Diagonalrippen: Porcher Skytex 40 hard
Eintrittskantenverstärkung: Plastic wire 2,3mm and 2,7 mm
Tragegurte: 13 mm black Kevlar/nylon webbing
Galerieleinen: DSL70/110
Mittlere Leinen: DSL 110
Stammleinen: TSL 190/280
Bremsleinen: DSL70
Technische Daten des BGD Epic EN/LTF-B
XS
S
M
ML
L
Zoom
0.96
1.00
1.04
1.08
1.12
Fläche projiziert
17.86
19.56
21.24
22.81
24.54
m²
Fläche ausgelegt
21.00
23.00
24.97
26.83
28.85
m²
Schirmgewicht
4.2
4.6
4.9
5.1
5.4
kg
Gesamtleinenlänge
210
230
250
268
289
m
Gesamthöhe
6.7
6.979
7.3
7.5
7.8
m
Anzahl an Stammleinen
3/3/4
A/B/C
Zellen
42/80
Streckung ausgelegt
5.01
Streckung projiziert
3.602
Flächentiefe
2.58
2.70
2.81
2.91
3.02
m
Spannweite ausgelegt
10.26
10.73
11.18
11.59
12.02
m
Spannweite projiziert
8.02
8.39
8.75
9.07
9.40
m
Gewichtsbereich
50-65
60-80
75-95
90-110
105-125
kg
Trimmgeschwindigkeit
38
km/h
Höchstgeschwindigkeit
50
km/h
Minimales Sinken
1.0
m/sec
Gleitzahl
9
Zulassung
EN/LTF-B
Im Packet
Paraglider
Rucksack
BGD T-shirt
Speed bar
USB stick with manuals
BGD stickers
Repair kit
Stuff sack
Riser bag
Compression strap
Standard Farboptionen
Konstruktionsmerkmale
CCB Cord Cut Billow
Das Cord Cut Billow System wurde entwickelt um die Oberflächenqualität, das Widerstandsvermögen und die aerodynamische Güte eines Gleitschirmes zu verbessern. Im Wesentlichen besteht das CCB aus zwei längsverlaufenden Nähten auf dem Obersegel, um den 3D Ballooning Effekt der Eintrittskanten bei einem befüllten Schirm zu verbessern.
Das System reduziert die Falten und Knitterstellen, die entlang der Rippen an der Nase des Gleitschirmes verlaufen, erheblich. Nicht nur, dass diese Falten am Obersegel vorkommen, sie haben auch Auswirkungen auf die Rippen selbst, da sie die Profiltreue verändern und die Rippenstabilität reduzieren.
Das CCB bringt generelle Verbesserung in der Leistung und ein Mehr an Stabilität im Segel. Das ist ein signifikanter Schritt nach vorne in der Konstruktion von Gleitschirmen.
Quelle: http://www.flybgd.com/de/gleitschirme/gleitschirm-epic-en-ltf-b-210-0-0.html