With the DOUBLESKIN from Mount Everest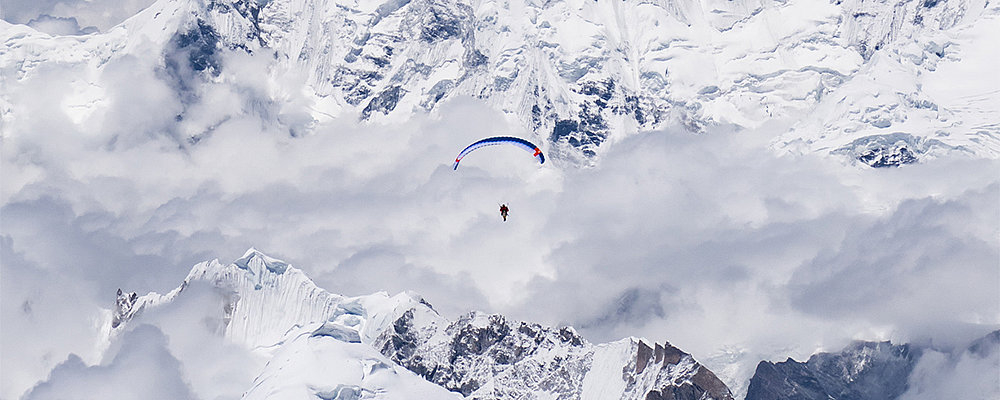 Pierre Carter writing history
At noon on 15 May 2022, South African Pierre Carter paraglided from South Col (7.950 metres) on Mount Everest and landed near the settlement of Gorak Shep. The 56-year-old adventurer is the first paraglider pilot to take off from Everest with permission from the Nepalese authorities. So far, only three teams have been able to fly from Mount Everest. French alpinist Jean Marc Boivin made the first paragliding flight from the summit back in 1988. Bertrand "Zebulon" Roche and Claire Bernier first took off with a tandem wing in 2001, as did Sano Babu Sunuwar and Lakpa Tsheri Sherpa in 2011 as the first Nepalese pilots.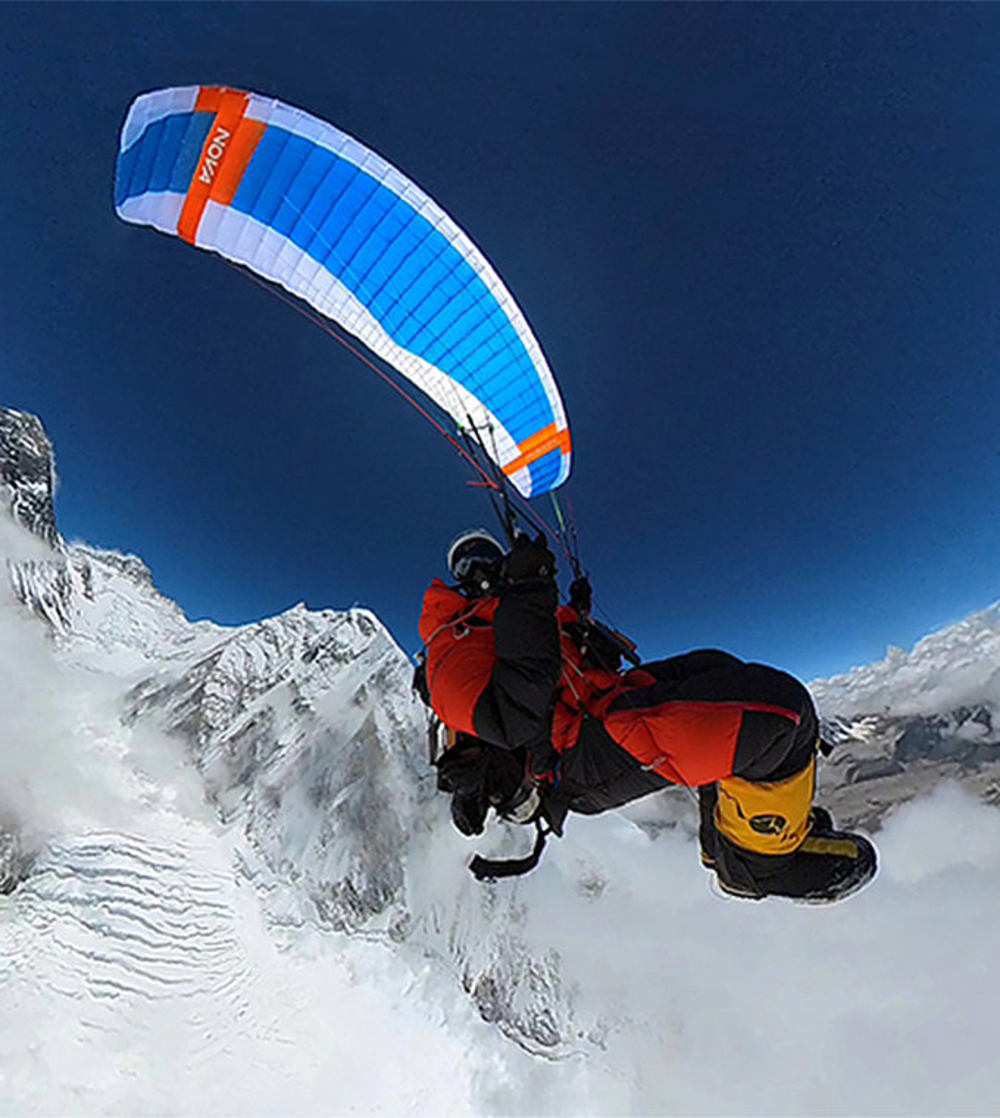 Since then, the Ministry of Culture, Tourism and Civil Aviation has rejected all applications. For 2022, Carter and the Australian Ken Hutt (63) received the permit for an Everest flight – but only from the South Col. On this saddle between Everest and Lhotse, at almost 8.000 metres, is legendary Camp 4, the last camp before the summit ascent. From here, Carter took off with our ultra-light weight DOUBLESKIN and landed after a 20-minute flight over 2.700 metres descend at about 5.300 metres above Gorak Shep, a small settlement of lodges.
Before his expedition, the experienced mountaineer and pilot estimated his chances of success at five, at best ten percent. After landing, he was all the more pleased that the weather gods were favourably disposed towards him and that he was able to experience the privilege of this flight. For the project was by no means easy and extremely fraught with obstacles. He reports about the last days on Everest: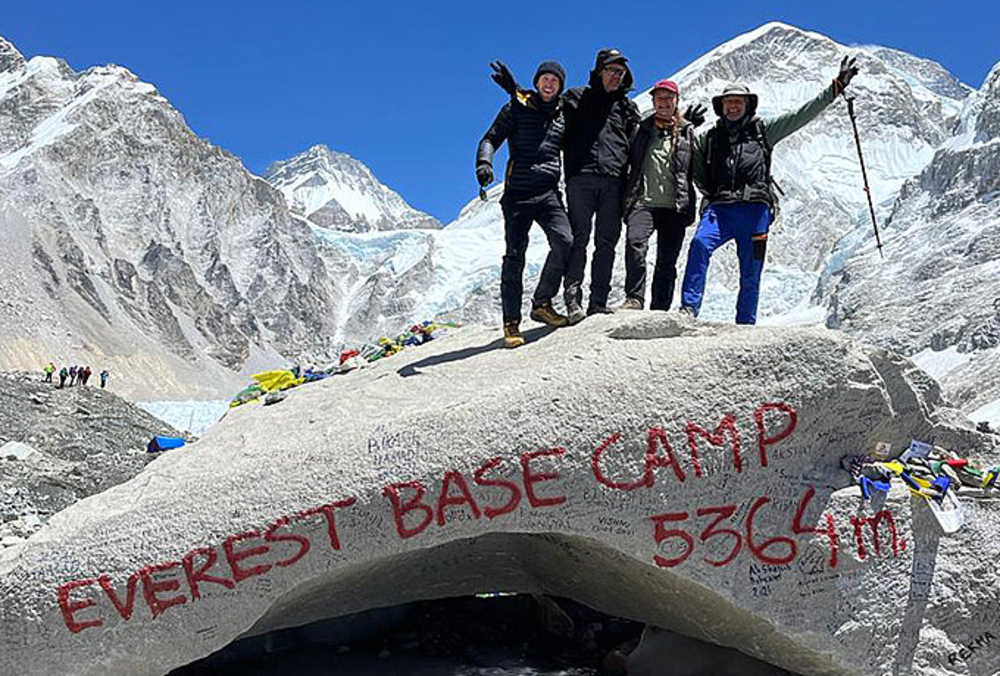 "After our party of twelve mountaineers was divided into group A (five of us ) and B (seven of us), we set off on Monday 9th, back through the notorious Khumbu Icefall straight to Camp 2, at 6.500 metres. So, a long day! Everyone got there unscathed except for myself. I felt sick just after exiting the ice fall proper, and carried on throwing up every now and then till I crawled into Camp 2 wanting an evac. Doc Christian, after extensive questioning from Basecamp, said I had probably picked up a virus. He suggested to hang tight, take a bunch of pills, and see how I feel in the morrow.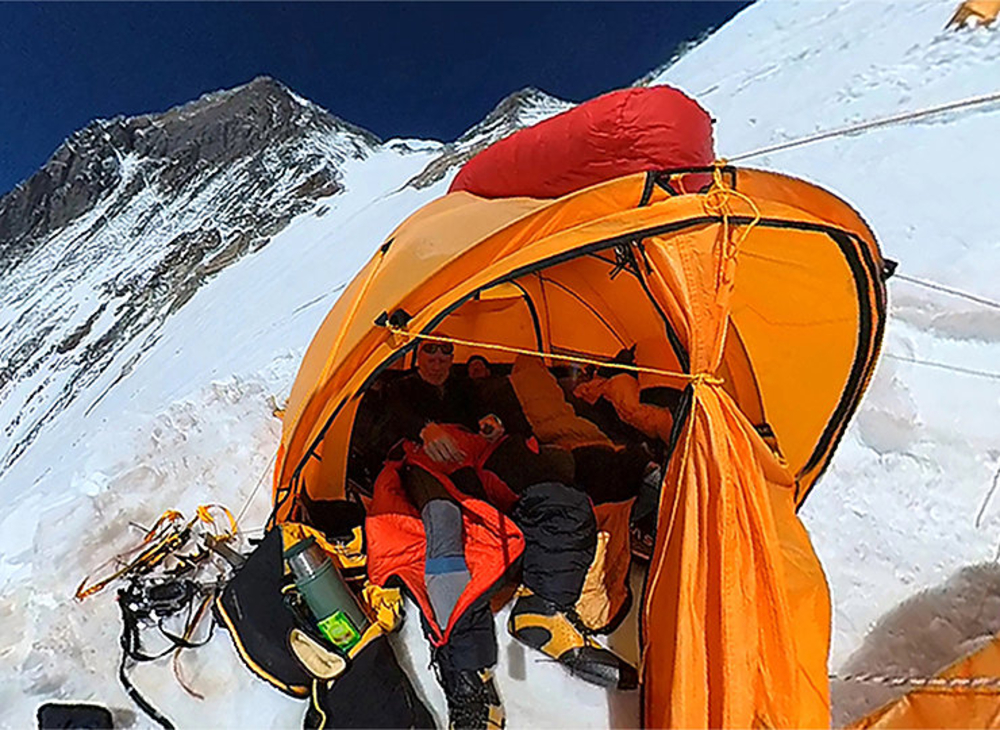 The next day came with not much improvement for me. While my Team A prepared to leave the next morning for Camp 3 at 7.200 metres, there was no way I could go with them. So, I elected to stay at Camp 2 and wait for Team B to come through and carry on up with them. This gave me a couple more days to try and recover from ??!!!@#&@! I now hadn't eaten for three days when the others eventually arrived on Thursday 12th.
To our excitement, Team A summited on Friday 13th, and were on their way down now. Team B and myself then geared up for Camp 3 at 7.200 metres, where we met up with Team A on their descent. Lots of hugs and smiles – whoop whoop!!! – but also exhausted faces.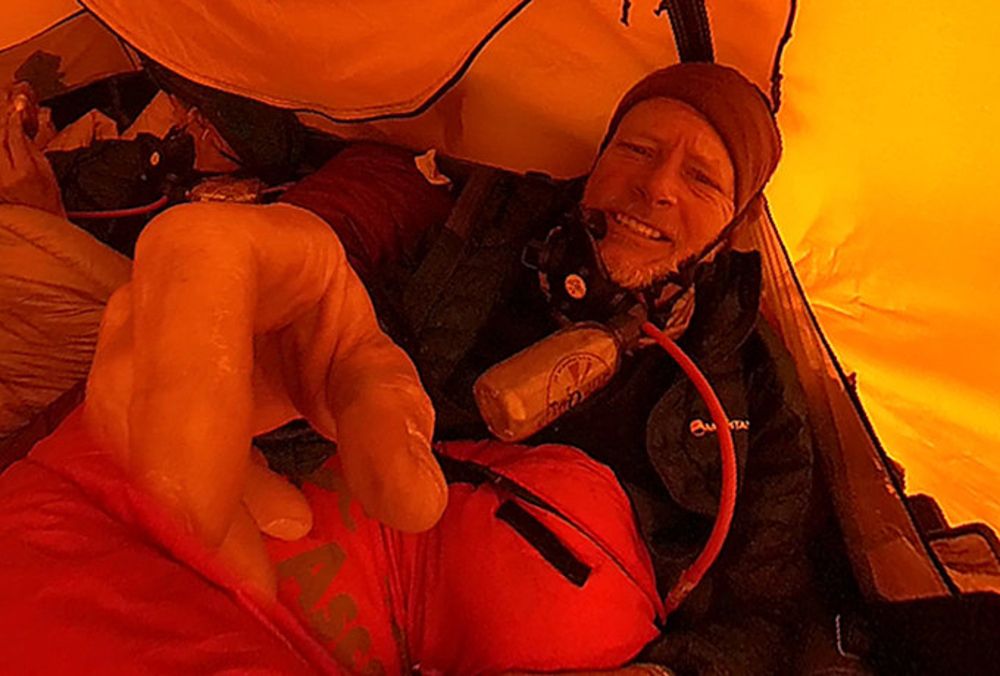 Above Camp 3, one generally goes onto bottled oxygen. Without "O", I was so weak that I only got 400 metres out of Camp 2 no further. At this point I suggested to my Sherpa Cheden we try extra O2. WOW, what a booster!!! It gave me the energy I needed and I managed to reach Camp 3 very relieved. My appetite was slowly returning – a very good sign! – and Camp 3 on "O" turned out to be pretty pleasant.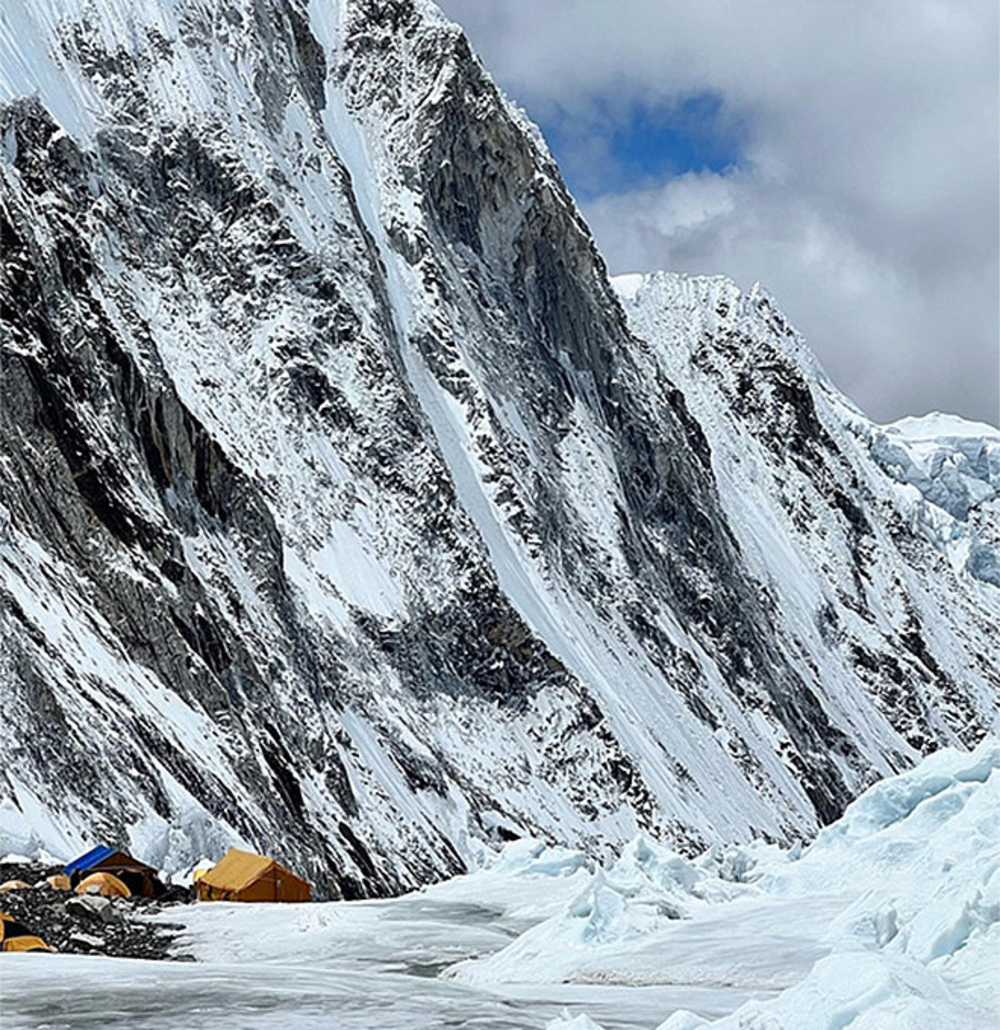 The next day was Saturday 14th and summit night with the 15th being summit day for Team B and maybe the fly-down-day for me. After a lengthy discussion with Dawa Steven Sherpa, the owner of the agency Asian Trekking, in the basecamp regarding the weather and my chances of summiting and flying off, I had a tough decision to make. The forecast: wind was going to be coming and going from 20 to 40 km/h, with a build-up of clouds in the afternoon from 1 pm onwards. It became clear that I would not be able to do both. Reaching the summit would leave no time to fly. So, what to do?
My thoughts were "the summit is always there". But the conditions in these high altitudes are always highly variable – and for flying those margins are even tighter. Only three pilots have ever flown off Everest. I had the permit AND – maybe – flyable weather. My main priority was to fly! So, the decision was made: Flying!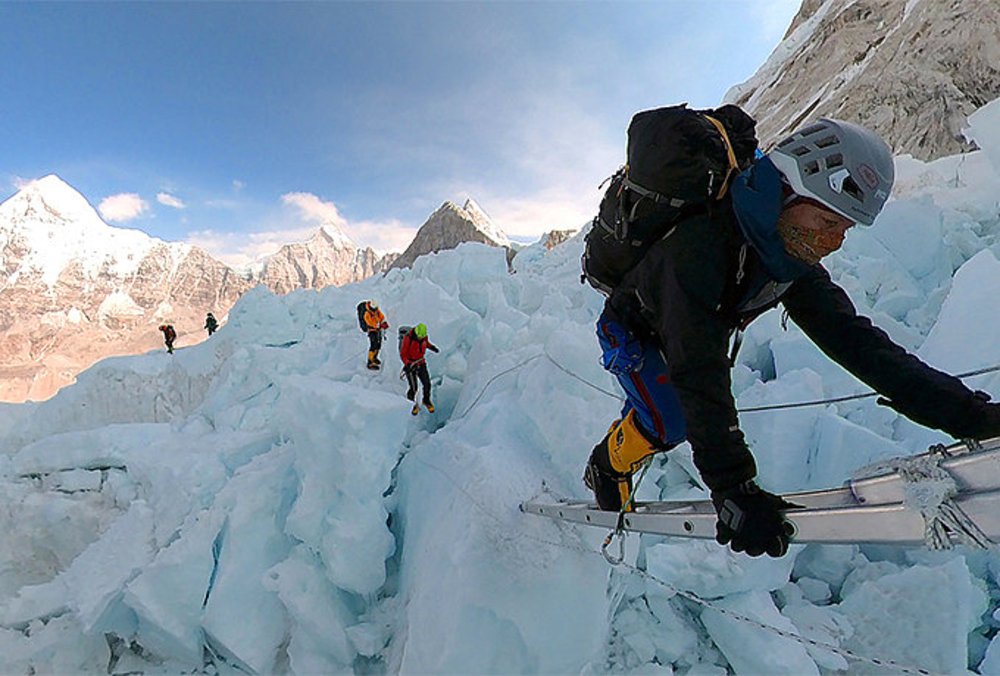 The route up to Camp 4 on the South Col was fairly pain free as I was feeling a lot stronger thanks to additional O2. We made our way up-to and through the famous Yellow Bands and Geneva Spur and on to Camp 4 at about 8.000 metres. At the South Col my team mates rested up for a couple of hours and then set off for the summit at 9 pm. I nearly went with them (FOMO) but was glad I didn't as the day for flying turned out trickier than we thought… So, after seeing my teammates off to go tag the summit on the 14th, I settled in for a quiet prayer that I would awake to gentle winds and no clouds. However, the night winds had other ideas and I fell asleep to the incessant flapping of tent fabric.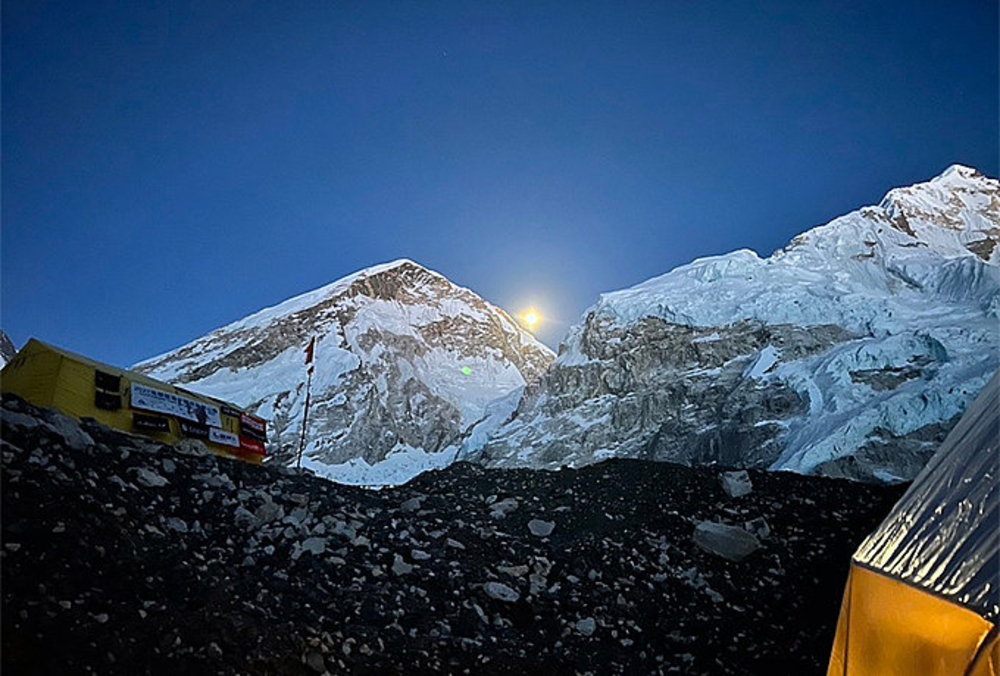 The morning dawned with a beautiful sunny glimmer and a 20 to 30 km/h wind – perfect! And news that my team mates were about to summit – whoop-whoop! But on closer inspection the valley was closed in from Camp 1 (6.000 metres) all the way down to the town Lukla. Decision time again! Should I fly and land at Camp 1, or wait for a gap in the clouds to open up? Wait!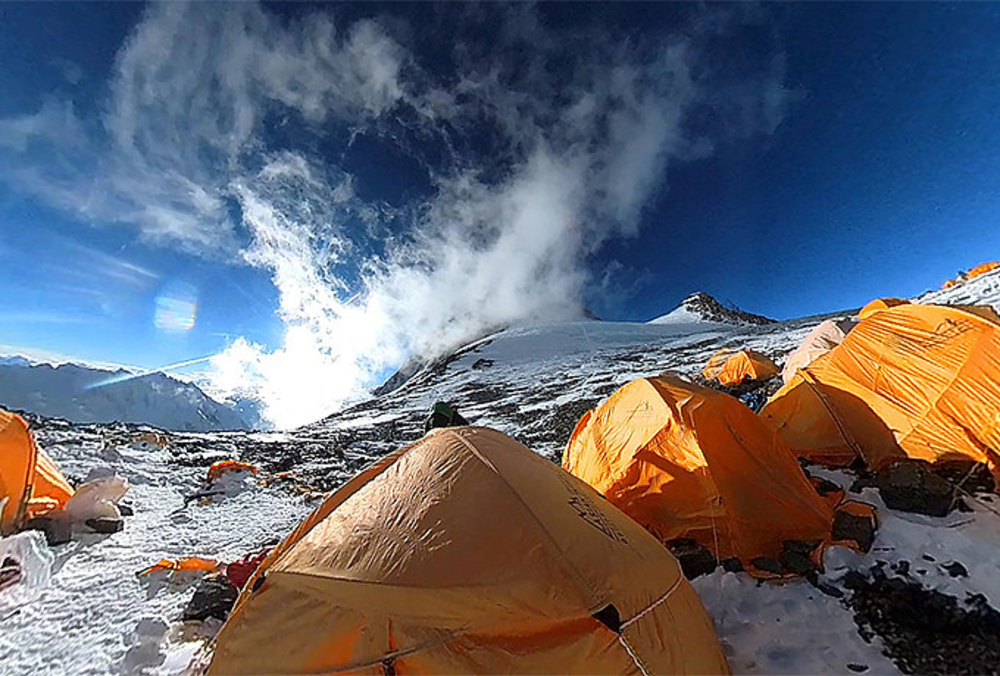 As the sun moved on the wind picked up. So, by 10 am we had a wind blowing around 40 to 50 km/h and still no break in the clouds. To make matters worse they had now moved up to Camp 2 (6.500 metres). Damn! Had I blown it? Well, I still had all day. Back to the tent we went, stuffing the glider in and added another session of "para-waiting", a discipline every paraglider pilot knows quite well… From the tent, we had a good view of the wind sock and the valley below. 10 o'clock went, as did 11 am. No change! I was starting to nod off, which is made easier when you remove your oxygen mask, when I noticed the wind had dropped slightly. Looking at my watch it was almost 12 o'clock. Two hours had passed!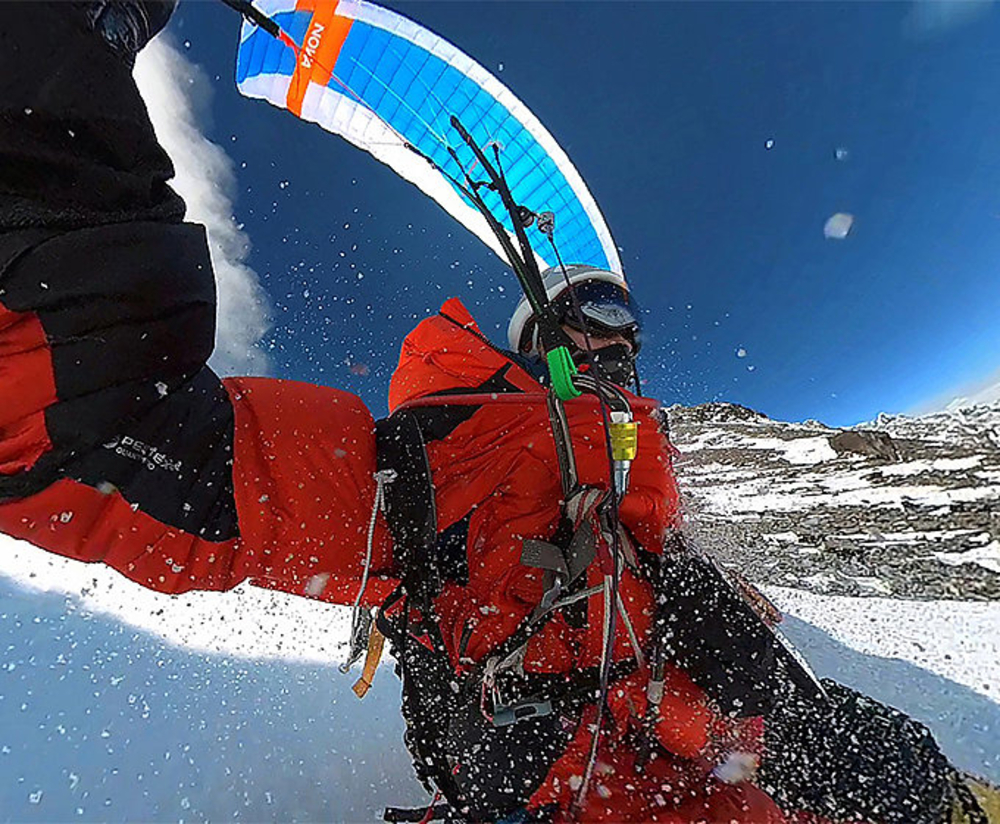 I crawled out of the tent and immediately said to myself 'this is on'! Looking down the valley the clouds had started parting and basecamp was looking open. I felt extremely excited, but not afraid. We got the glider out, set up and after fighting with "Michelin Man-down clothing" set off. Taking off turned into a big challenge, though not the kind one would expect. Despite all the wind, I discovered that I would still have to make a strenuous run for it. An extremely exhausting exercise at this altitude. The glider was a bit of a handful on take-off, showing what 8.000 metres do to an A-class paraglider. But my DOUBLESKIN did exactly what she was supposed to do: She flew! She flew beautifully. The pictures tell the rest…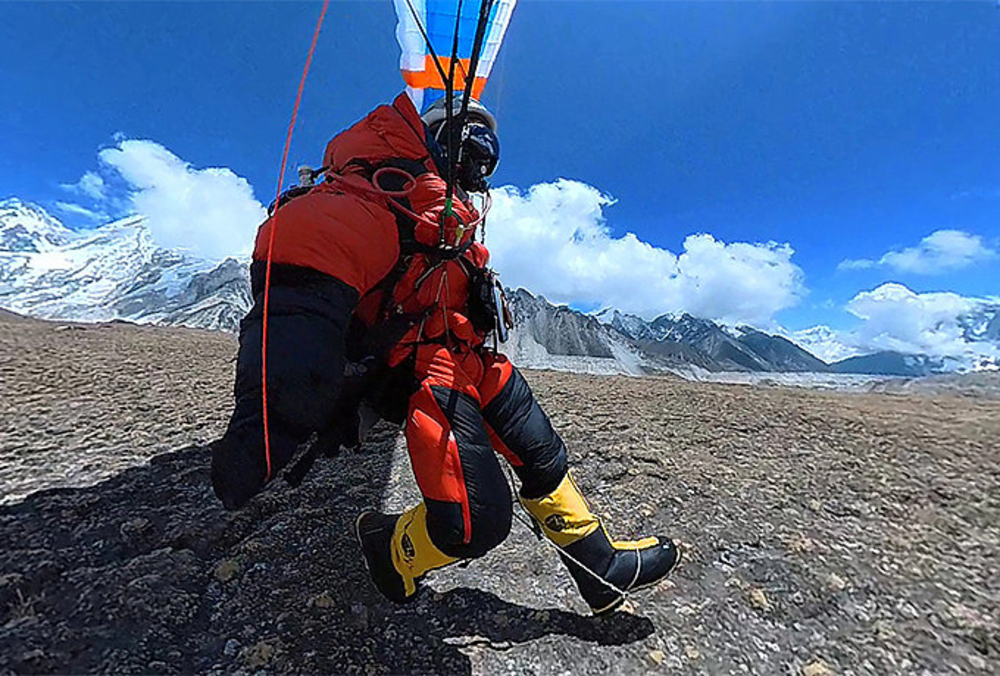 The flight was approximately 20 minutes until I landed on the step just above the village of Gorak Shep. The top ground speed down wind was about 90 km/h, landing at 5.300 metres in a gusty 30 km/h valley wind. Falling over upon landing due to my giant 8.000 metre boots, didn't matter to me. It was simply toooooo gooooood!!!"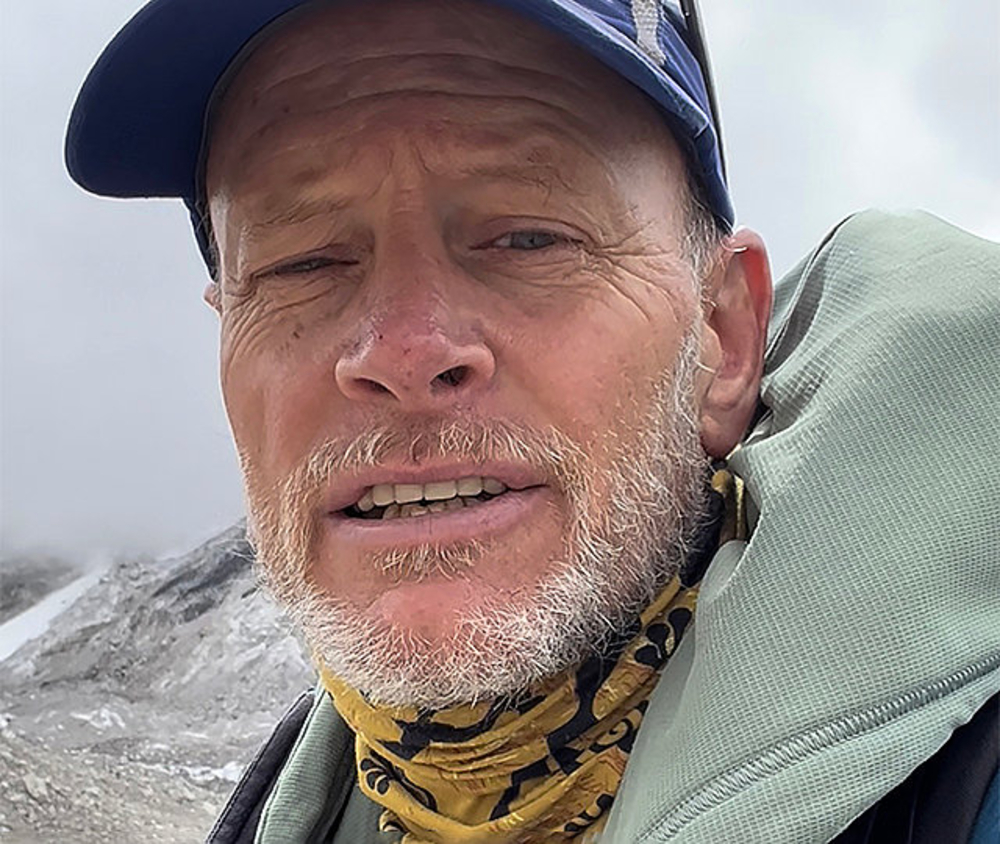 Pierre's flight earned him the title of the fourth pilot to ever paraglide off Everest. Having received his permit beforehand, Pierre is officially the first man to ever paraglider off Everest with permission. It's going to be interesting to see what authorities will allow in the future.
This flight from Everest was summit #6 of Pierre's ongoing 7Summits7Flights project that ranges back as far as 1996: to fly off the highest peaks of every continent. While he claimed the idea in the late 1990s, he began his mission in 2005 with Mount Elbrus. To date, one peak is missing: Mount Vinson in Antarctica.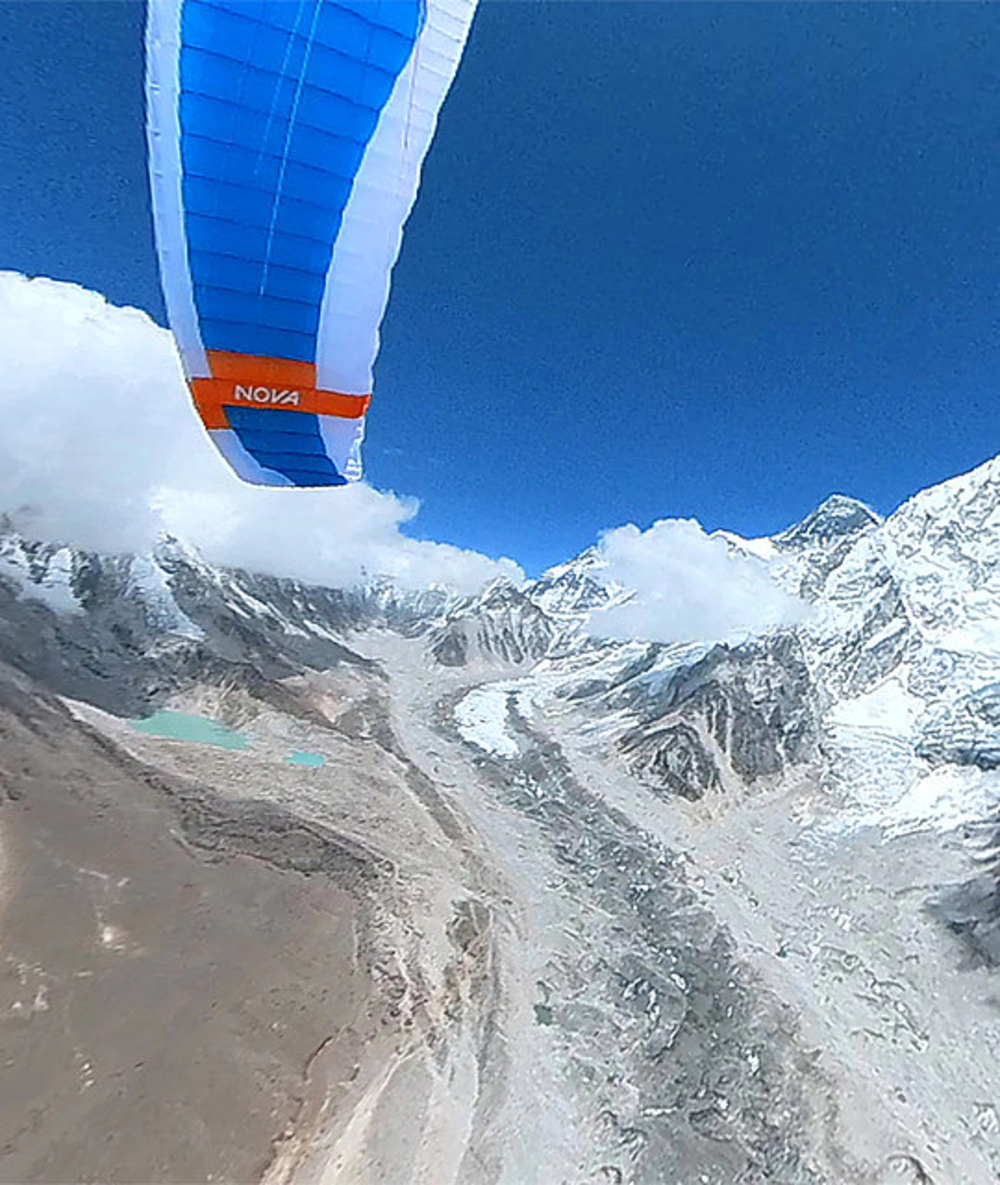 Pierre openly admits that Everest was not the only mountain where authorities made the take-off from the actual peak impossible: On Denali (North America) the National Park Administration had previously confiscated his gear – so, no flight even though it would have been possible. On Kilimanjaro (Africa) he flew, but it took his working partner Linda ten years to set up paragliding permission.
Concerning Everest he says: "Of course, it would have been cool to fly, but one must accept the facts. May it be the wind, the clouds – or the permit." After achieving this lifelong goal, Pierre is now happy to be back in oxygen-rich atmospheres and warmer climates. And he slowly starts of thinking #7: Mount Vinson – including the challenge to raise 50.000+ USD to make it happen…
Further information: www.7summits7flights.co.za, www.instagram.com/7summits7flights/, www.facebook.com/pierre.carter.58,
Quelle www.nova.eu
https://www.nova.eu/en/news-stories/article/news/with-the-doubleskin-from-mount-everest/